Here's a super simple recipe that takes just a few minutes to throw together, tastes delicious, and is healthy… in other words, perfect for back-to-school!
I actually don't typically eat very much canned tuna, but I was hit by a pregnancy craving the other day and I spent some time researching which variety was safe to eat while preggers. Tuna in general should be eaten only in moderation by pregnant women, but chunk light is the lowest in mercury, rendering it the safest choice for occasional consumption.
When I do eat tuna salad, there is one rule I wholeheartedly stick to: NO CELERY! You are probably already well aware of my aversion to the ribbed, stringy vegetable as I've mentioned it in numerous posts. Although I hate (yes, hate) celery, I do like a crunchy component to tuna salad.
Here's where the toasted walnuts come into play.
Commonly found in chicken salad, walnuts also make a great addition to tuna salad… as I found out with this little experiment. Toasting the walnuts gives them extra crunch and deepens their flavor, adding a nice element of surprise to boring old tuna salad.
As for the crackers photographed with the tuna salad, they're Ritz impostors. I've been loving the Whole Foods brand Golden Rounds; another similar option is the Back to Nature Classic Round Crackers. Sure, processed crackers aren't the absolute best choice for serving with the tuna salad (whole wheat bread or organic greens would be optimal) but they are certainly a welcomed every-now-and-then treat!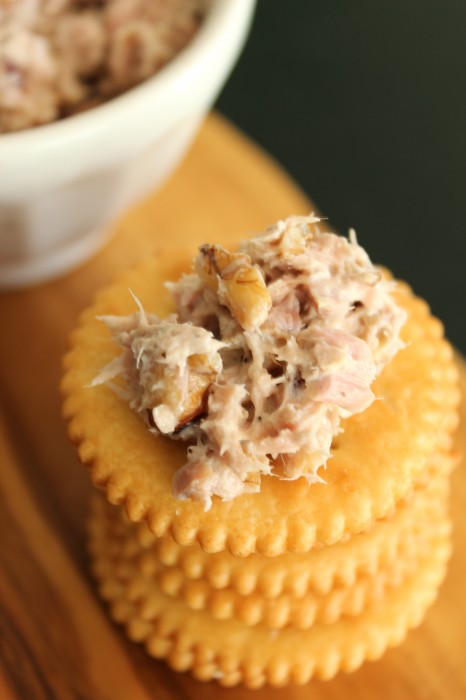 Toasted Walnut Tuna Salad
| Name: | Toasted Walnut Tuna Salad |
| --- | --- |
| Cuisine | American |
| Prep Time | 15 minutes |
| Cooking Time | 5 minutes |
| Total Time | 20 minutes |
| Servings | 4 |
| Yield | 4 servings |
Keywords: entree main salad snack fish walnuts
Ingredients (2 servings)
1 can chunk light tuna, preferably wild & pole-caught
2 Tbsp plain 2% Greek yogurt
1 Tbsp olive oil mayonnaise
3/4 tsp white wine vinegar
Kosher or sea salt & freshly ground black pepper, to taste
6 walnut halves, toasted and finely chopped
Instructions
Scoop tuna out into a small bowl and flake.
Stir in the yogurt, mayo, and vinegar. Season to taste with salt and pepper.
Fold in chopped toasted walnuts.
Serve with crackers, in a sandwich, or on a green salad.
Estimated Nutrition Per Serving
Calories: 265 kcal
Protein: 20g
Carbohydrates: 6g

Dietary Fiber: 2g
Sugars: 2g

Fat: 19g

Saturated Fat: 2g
Trans Fat: 0g

Cholesterol: 30mg
Sodium: 260mg
Vitamin D: 12mcg (60% DV)
Calcium: 65mg (5% DV)
Iron: 2mg (10% DV)
Potassium: 322mg (7% DV)
Note: The provided nutrition information is an estimate based on standard portion sizes and ingredients used. Actual values may vary depending on specific brands and variations in ingredients.