If you're looking for the ideal combination of sweet, nutty, and gooey, there's nothing quite like a homemade caramel pecan pie.
This classic dessert not only satisfies your sweet tooth but also showcases the delightful contrast between crunchy pecans and luscious caramel.
Whether it's a special occasion or just a weekend treat, this recipe is sure to impress. So, let's dive into the delicious world of making a caramel pecan pie!
| | |
| --- | --- |
| Name | The Perfect Caramel Pecan Pie |
| Cuisine | Fusion |
| Prep Time | 15 minutes |
| Cooking Time | 60 minutes |
| Total Time | 1 hour and 25 minutes |
| Servings | 8 servings |
| Yield | 1 (9-inch) caramel pecan pie |
Ingredients
1 9-inch pie crust (store-bought or homemade)
1 cup granulated sugar
1/4 cup unsalted butter
3/4 cup dark corn syrup
1/2 teaspoon salt
3 large eggs
1 teaspoon vanilla extract
1 1/2 cups pecan halves
Instructions
Prepare the Pie Crust
If you're using a store-bought pie crust, follow the package instructions for pre-baking. If you prefer homemade, roll out your pastry and place it in a pie dish. Crimp the edges for a decorative touch.
Preheat the Oven
Preheat your oven to 350°F (175°C).
Make the Caramel Filling
In a saucepan over medium heat, melt the butter. Stir in the granulated sugar, corn syrup, and salt. Allow the mixture to come to a gentle boil, stirring occasionally. Once it starts to boil, remove it from the heat and let it cool for a few minutes.
Add Eggs and Vanilla
In a separate bowl, whisk the eggs and vanilla extract together. Gradually add this mixture to your slightly cooled caramel filling, stirring constantly to combine everything thoroughly.
Arrange the Pecans
Place the pecan halves in the pre-baked pie crust. You can arrange them in a decorative pattern or simply sprinkle them evenly over the crust.
Pour the Caramel
Carefully pour the caramel filling over the pecans. The pecans will naturally rise to the top as the pie bakes.
Bake the Pie
Place your pie in the preheated oven and bake for about 50-60 minutes or until the filling is set. You can check the pie's doneness by giving it a gentle jiggle; it should only have a slight wobble in the center when it's done.
Cool and Serve
Once your caramel pecan pie is baked to perfection, remove it from the oven and let it cool on a wire rack. It's best to allow it to cool for a few hours or even overnight, as this allows the flavors to meld.
Serve your caramel pecan pie with a dollop of whipped cream or a scoop of vanilla ice cream for the ultimate indulgence. The blend of the sweet, nutty caramel with the buttery pecans in the flaky pie crust is nothing short of heavenly.
Nutrition Facts (Approximate values per serving)
Calories: 485 kcal
Total Fat: 25g
Saturated Fat: 6g
Trans Fat: 0g
Cholesterol: 73mg
Sodium: 305mg
Total Carbohydrates: 63g
Dietary Fiber: 2g
Sugars: 49g
Protein: 5g
10 Simple Caramel Cecan Pie Recipes
Caramel Pecan Pie is a luscious dessert that combines the richness of caramel with the crunch of pecans. The buttery, flaky crust cradles a filling of caramel, toasted pecans, and sweet custard. Baked to perfection, it's a classic indulgence, delivering a perfect blend of sweet and nutty flavors in every slice.
1. Chocolate Caramel Pecan Pie
Add a twist to your pecan pie by mixing in chocolate chips with the pecans before pouring in the caramel filling. The result? A delightful marriage of rich chocolate, gooey caramel, and crunchy pecans in every bite.
2. Bourbon Caramel Pecan Pie
Elevate your pecan pie with a touch of bourbon. A few tablespoons of this spirit added to the caramel filling give your pie a warm, smoky flavor that complements the sweetness of the pecans.
3. Maple Caramel Pecan Pie
For a taste of pure Canadian delight, substitute corn syrup with maple syrup. The result is a pecan pie that's lighter, less sweet, and boasts a subtle maple undertone.
4. Mini Caramel Pecan Pies
Create individual servings by making mini pecan pies in muffin tins. Perfect for portion control and delightful for gatherings.
5. Salted Caramel Pecan Pie
Enhance the contrast between sweet and salty with a sprinkle of sea salt on top of your pecan pie. This variation adds a delightful savory note to the dessert.
6. Vegan Caramel Pecan Pie
Achieve that caramel pecan pie taste without dairy or eggs. Use plant-based butter, corn syrup, and an egg substitute. It's a cruelty-free dessert that's equally scrumptious.
7. Pecan Pie Bars
Turn your caramel pecan pie into convenient bars by baking the same filling on a shortbread crust. Cut into squares for a portable treat.
8. Caramel Pecan Pie with a Graham Cracker Crust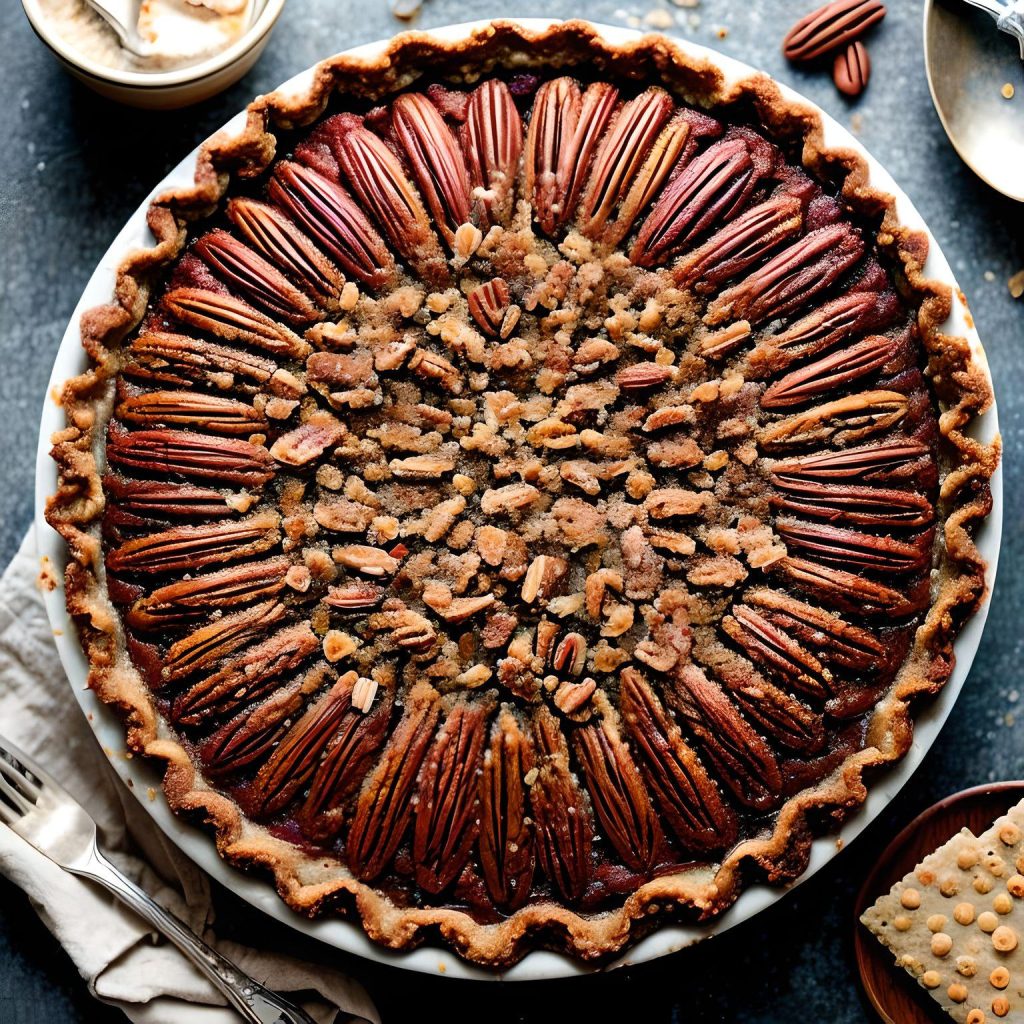 Swap out the traditional pie crust for a graham cracker crust. This adds a lovely contrast to the sweet, nutty filling.
9. Pecan Pie Cheesecake
Combine two beloved desserts into one by layering a cheesecake filling atop your pecan pie. Creamy cheesecake and crunchy pecans? Yes, please!
10. Spiced Caramel Pecan Pie
Enhance the warmth of your pecan pie by adding a dash of cinnamon and nutmeg to the caramel filling. These spices create a cozy, autumnal flavor.
These 10 variations offer exciting new flavors and textures while maintaining the delicious essence of caramel pecan pie. Choose one that suits your taste and enjoy a delightful twist on this classic dessert.