I'm just going to throw this out there: I love pizza… but I might love calzones even more. Basically pizza in pocket form, calzones can be stuffed with just about anything your little heart desires. On this particular occasion, my heart was pitter-pattering over vibrant homemade pesto, creamy ricotta cheese (part-skim, of course), tender zucchini, and fresh spinach.
| Name: | Calzones with Pesto, Zucchini, and Spinach |
| --- | --- |
| Cuisine: | Italian |
| Prep Time: | 20 minutes |
| Cooking Time: | 15 minutes |
| Total Time: | 1 hour 35 minutes (including dough rising) |
| Servings: | 4 |
| Yield: | 4 calzones |
One might even call these "green" calzones, what with the trifecta of verdant vegetables.
A bit of fresh mozzarella probably would have put these calzones over the top, but alas we had none on hand. That being said, the rich ricotta did a splendid job of satisfying my craving for something cheesy.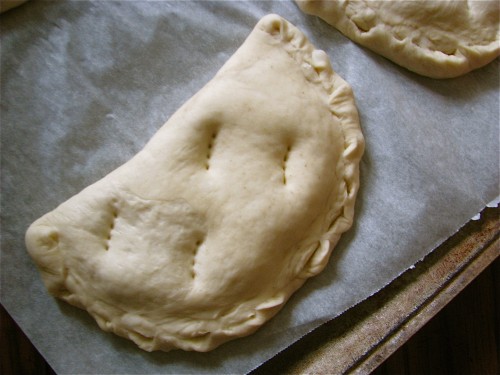 For some reason I find it immensely gratifying to eat an entire meal with my hands. The pockets of crisp pizza dough encapsulating the piping hot cheese-and-veggie filling negate the need for any utensils, and the hands-only eating experience is only heightened when you have a bowl of steaming marinara sauce on the side for dipping.
If you're a fan of pizza (and really, who isn't?) then you will love these calzones!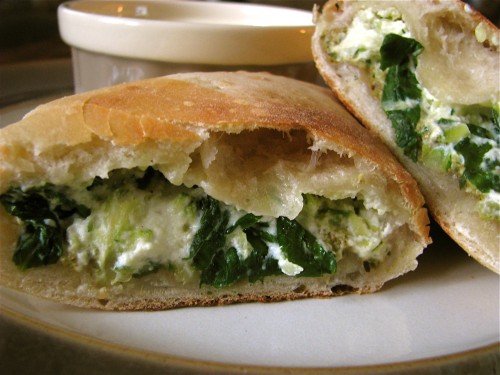 Calzones with Pesto, Zucchini, and Spinach
yields 4 calzones
Ingredients
homemade or store-bought dough for 1 pizza, at room temperature
flour, for rolling out pizza dough
1 batch homemade oil-less vegan pesto* (commercial pesto tends to be super oily, which makes for a soggy calzone)
extra virgin olive oil
1 cup coarsely grated zucchini squash, preferably organic
1 cup tightly packed baby spinach, preferably organic
1 cup part-skim ricotta cheese
Kosher salt and freshly ground black pepper, to taste
homemade or store-bought marinara sauce, warmed, for dipping
Directions
Preheat oven to 450 degrees F.
Divide pizza dough into 4 equal pieces. On a clean, lightly floured surface, roll each piece of dough into a 1/4 inch thick circle of about 7 inches in diameter. Place all dough circles onto a non-stick (or lined) baking sheet.
Evenly divide the pesto amongst the 4 dough circles, spreading it across half of each and leaving a 1/2 inch border. Set aside.
Heat a drizzle of olive oil in a large skillet over medium-high heat. Add shredded zucchini to skillet and cook for 3 minutes, stirring often. Add spinach to skillet and toss until wilted. Let cool for 5 minutes.
In a medium bowl, stir together the ricotta and the zucchini/spinach mixture. Season to taste with salt and pepper.
Evenly divide the ricotta and vegetable mixture between the 4 dough circles, spreading it on top of the pesto. Each dough circle should still have a clean half.
Fold the clean half of each dough circle up and over the filled half. Pinch/crimp dough edges together to form half circles. Gently pierce the top of each calzone a few times with a fork.
Place baking sheet into the preheated oven and cook for 15-20 minutes, until the calzones are golden brown.
Let calzones rest at room temperature for about 5 minutes before serving with the warmed marinara sauce.
Oil-less Vegan Pesto
adapted from Ashley of The Edible Perspective
Ingredients
1/2 cup raw walnut pieces
2 cups tightly packed fresh basil leaves
2 small garlic cloves
1/4 cup water (or more, depending on desired consistency)
Kosher salt & freshly ground black pepper, to taste
Direction
Combine walnuts, basil, and garlic in a food processor or high speed blender and process/blend until well-mixed.
With the motor running, stream water through feed tube until pesto comes together in a smooth and thick sauce, adding more water if desired.
Season to taste with salt and pepper.
| | |
| --- | --- |
| Estimated Nutrition per Serving: | |
| Calories: | 430 calories |
| Protein: | 14 grams |
| Carbohydrates: | 53 grams |
| Dietary Fiber: | 3 grams |
| Sugars: | 1 gram |
| Fat: | 19 grams |
| Saturated Fat: | 6 grams |
| Cholesterol: | 22 milligrams |
| Sodium: | 790 milligrams |
| Potassium: | 281 milligrams |
| Vitamin A: | 26% of Daily Value (DV) |
| Vitamin C: | 15% of DV |
| Calcium: | 25% of DV |
| Iron: | 19% of DV |