When it comes to elegant and flavorful dishes, the classic Leek Tart is a winner.
This savory pastry combines the subtle sweetness of leeks with the creamy richness of cheese, all nestled in a flaky, buttery crust.
Whether you're hosting a brunch, a picnic, or simply looking for a delightful dinner option, this leek tart recipe is sure to impress your taste buds.
| | |
| --- | --- |
| Name | Leek Tart Recipe |
| Cuisine | French |
| Prep Time | 20 minutes |
| Cooking Time | 45 minutes |
| Total Time | 1 hour 5 minutes |
| Servings | 6 servings |
| Yield | 1 (9-inch) tart |
Ingredients
For the Crust
1 1/4 cups all-purpose flour
1/2 teaspoon salt
1/2 cup (1 stick) cold unsalted butter, cut into small cubes
3-4 tablespoons ice water
For the Filling
2 large leeks, cleaned and thinly sliced (white and light green parts only)
2 tablespoons butter
1 cup grated Gruyère cheese
1 cup heavy cream
3 large eggs
Salt and black pepper, to taste
A pinch of nutmeg (optional)
Fresh thyme leaves for garnish (optional)
Instructions
Preparing the Crust.
In a food processor, combine the flour and salt. Pulse to mix.
Add the cold butter cubes and pulse until the mixture resembles coarse crumbs.
Slowly add ice water, one tablespoon at a time, and pulse until the dough begins to come together.
Turn the dough out onto a floured surface and shape it into a disk. Wrap it in plastic wrap and refrigerate for at least 30 minutes.
Making the Filling.
In a large skillet, melt the butter over medium heat. Add the sliced leeks and cook until they are soft and translucent, about 5-7 minutes. Set aside to cool.
In a mixing bowl, whisk together the eggs, heavy cream, grated Gruyère cheese, and a pinch of nutmeg if desired. Season with salt and pepper.
Assembling the Leek Tart.
Preheat your oven to 375°F (190°C).
Roll out the chilled dough on a floured surface to fit a 9-inch tart pan. Press the dough into the pan and trim any excess.
Spread the sautéed leeks evenly over the tart crust.
Pour the egg and cream mixture over the leeks, making sure it's evenly distributed.
Bake the tart in the preheated oven for 30-35 minutes or until the filling is set and the crust is golden brown.
Let the tart cool for a few minutes before slicing.
Garnish with fresh thyme leaves, if desired.
The Leek Tart is a delightful dish that perfectly balances flavors and textures. Its rich, creamy filling pairs wonderfully with the subtle sweetness of leeks, all encased in a flaky, buttery crust. Whether served as an appetizer, a main course, or as part of a brunch spread, this recipe is a crowd-pleaser. Give it a try, and you'll have a new favorite in your repertoire of recipes. Enjoy!
Nutrition Facts (per serving)
Calories: 342 kcal
Carbohydrates: 22g
Protein: 8g
Fat: 25g
Saturated Fat: 15g
Cholesterol: 146mg
Sodium: 370mg
Potassium: 182mg
Fiber: 1g
Sugar: 2g
Vitamin A: 1525 IU
Vitamin C: 5.3 mg
Calcium: 185 mg
Iron: 2.1 mg
10 Simple Leek Tart Recipe
Indulge in a savory delight with our Leek Tart recipe. This elegant dish combines the mild sweetness of leeks with creamy cheese, all encased in a flaky pastry crust.
It's a perfect appetizer or light meal. Follow our easy steps for a delicious homemade treat that will impress your guests and satisfy your taste buds. Enjoy!
1. Leek and Bacon Tart
Enhance your classic leek tart by adding crispy bacon bits to the filling. The smoky, salty flavor of bacon complements the sweetness of the leeks perfectly. Simply fry bacon until crispy, crumble it over the leek and cheese filling before baking, and enjoy the delicious combination of flavors.
2. Leek and Mushroom Tart
Combine earthy mushrooms with sautéed leeks for a delightful twist. Sauté sliced mushrooms alongside leeks until both are tender, then layer them in the tart shell with Gruyère cheese. The mushrooms add depth and an umami-rich dimension to your tart.
3. Caramelized Leek Tart
Take your leek tart to the next level by caramelizing the leeks. Slow-cook thinly sliced leeks in butter and a pinch of sugar until they turn golden and sweet. Spread these luscious caramelized leeks on your tart shell, top with cheese, and bake for a sublime taste experience.
4. Goat Cheese and Leek Tart
For a tangy twist, use creamy goat cheese in place of Gruyère. The goat cheese's tanginess balances the mild sweetness of the leeks, creating a creamy, zesty tart.
5. Smoked Salmon and Leek Tart
Elevate your leek tart with smoked salmon slices. Layer the salmon on the tart shell before adding the leeks and cheese. The result? A luxurious and savory tart that's perfect for brunch or special occasions.
6. Spinach and Leek Tart
Boost the nutritional value by incorporating spinach into your leek tart. Sauté spinach with leeks until wilted, then layer the mixture in the tart shell. The combination of greens and leeks makes for a wholesome and flavorful tart.
7. Leek and Feta Tart
Swap out Gruyère for crumbled feta cheese for a Mediterranean-inspired twist. The salty, briny flavor of feta complements the leeks beautifully, adding a delightful contrast to the tart.
8. Tomato and Leek Tart
Add a burst of color and freshness by layering thinly sliced tomatoes atop your leek tart before baking. The juicy tomatoes balance the richness of the tart and add a vibrant touch to your presentation.
9. Leek and Potato Tart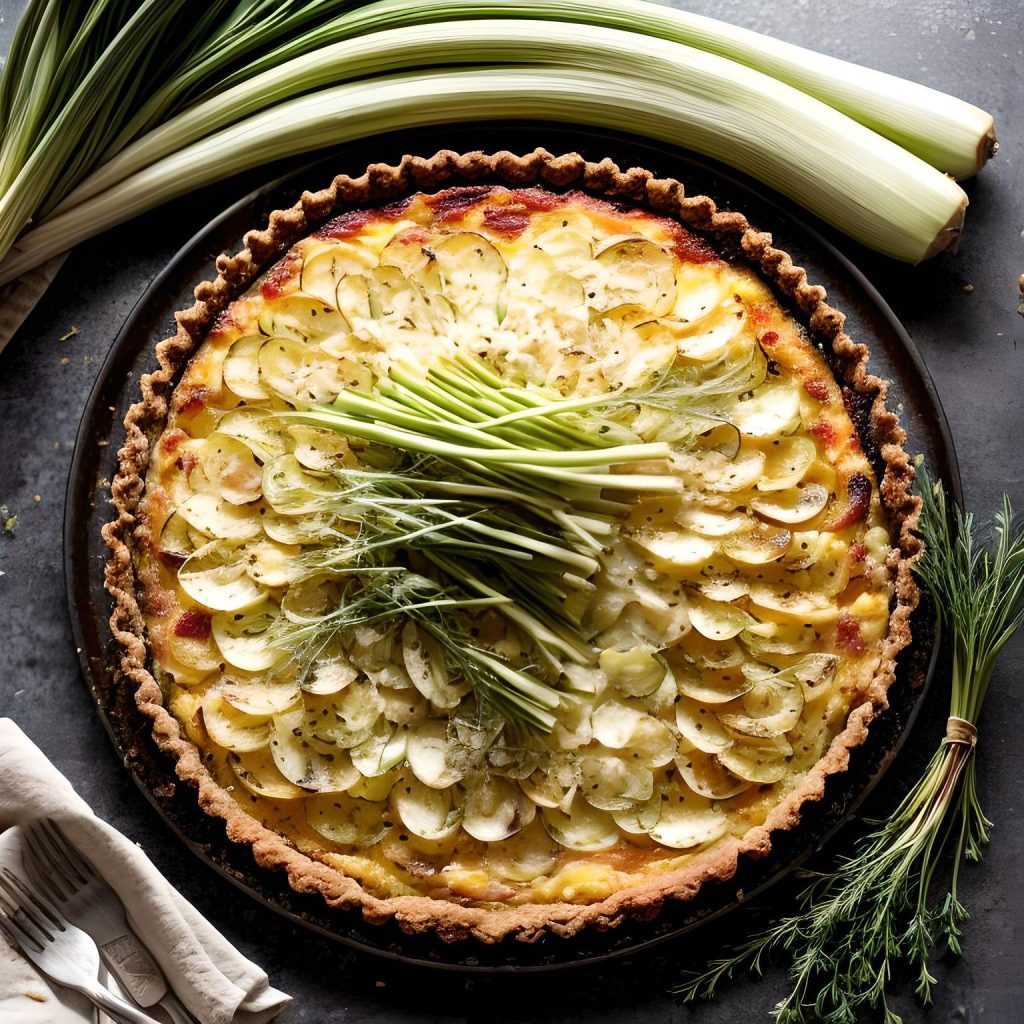 For a heartier variation, add thinly sliced potatoes to the tart. Layer them with sautéed leeks and cheese for a comforting and satisfying dish.
10. Blue Cheese and Leek Tart
Go bold with crumbled blue cheese as your tart's star ingredient. The strong, creamy flavor of blue cheese pairs wonderfully with the sweet leeks for a flavor-packed experience.
Looking to elevate your culinary skills with minimal effort? Try our 10 Simple Leek Tart Recipe! With a flaky pastry crust, creamy leek filling, and a hint of savory cheese, this dish is a delightful combination of flavors and textures. Perfect for brunch or a light dinner, this recipe is sure to impress your taste buds and guests alike. Enjoy easy gourmet dining at home!