Warm, comforting, and packed with nutrients, lima bean soup is a classic dish that never goes out of style.
Whether you're a long-time fan or new to the world of lima beans, this recipe will have you savoring every spoonful.
Lima beans are not only delicious but also incredibly nutritious, providing a good dose of protein, fiber, and essential vitamins and minerals. So, let's dive into the world of this hearty and healthy Lima Bean Soup!
| | |
| --- | --- |
| Name | Lima Bean Soup Recipe |
| Cuisine | American cuisine |
| Prep Time | 10 minutes |
| Cook Time | 2 hours |
| Total Time | 1 hour and 40 minutes to 2 hours and 10 minutes (including prep time) |
| Servings | 6 servings |
| Yield | 6 |
Ingredients
2 cups dried lima beans
1 onion, chopped
2 carrots, diced
2 celery stalks, chopped
4 cloves garlic, minced
8 cups vegetable broth
1 bay leaf
1 teaspoon dried thyme
1 teaspoon dried rosemary
Salt and pepper to taste
2 tablespoons olive oil
Fresh parsley for garnish (optional)
Instructions
Prepare the Lima Beans
Start by rinsing the dried lima beans under cold water and picking out any debris or discolored beans. Place the beans in a large bowl, cover them with water, and let them soak overnight. If you're short on time, you can also use the quick soak method by boiling the beans for 2 minutes, then letting them sit for an hour.
Sauté the Aromatics
In a large soup pot, heat the olive oil over medium heat. Add the chopped onion, carrots, and celery, and sauté for about 5 minutes, until the vegetables begin to soften. Add the minced garlic and continue to sauté for another minute or until fragrant.
Add Beans and Herbs
Drain the soaked lima beans and add them to the pot. Pour in the vegetable broth, then add the bay leaf, dried thyme, and dried rosemary. Stir everything together and bring the mixture to a boil.
Simmer
Once boiling, reduce the heat to low, cover the pot, and let the soup simmer for about 1.5 to 2 hours, or until the lima beans are tender and creamy.
Season and Serve
Season the soup with salt and pepper to taste. Remember to remove the bay leaf before serving. Ladle the hot Lima Bean Soup into bowls, and if you like, garnish with fresh parsley for a burst of color and flavor.
This Lima Bean Soup recipe is a wholesome and satisfying meal on its own or as a side dish. It's a perfect choice for chilly days when you need something comforting and nourishing. Lima beans provide a creamy texture and are a great source of plant-based protein and dietary fiber. Plus, they're loaded with vitamins and minerals, making this soup as nutritious as it is delicious.
Nutrition Facts (per serving)
Calories: 300 calories
Protein: 12 grams
Carbohydrates: 50 grams
Dietary Fiber: 15 grams
Fat: 6 grams
Sodium: Varies depending on the vegetable broth used, but you can control this by choosing low-sodium broth.
Vitamins and Minerals: This Lima Bean Soup is a good source of dietary fiber, protein, and various vitamins and minerals, including potassium, iron, and folate.
10 Simple Lima Bean Soup Recipes
Lima bean soup is a hearty and nutritious dish perfect for chilly days. To make it, sauté onions and garlic, add diced carrots and celery, then toss in dried or canned lima beans.
Pour in vegetable broth, season with herbs and spices, and simmer until beans are tender. Finish with a splash of lemon juice for a delightful, comforting meal. Enjoy!
1. Classic Lima Bean Soup
Start with the timeless recipe outlined earlier. Lima beans, aromatic vegetables, and herbs come together for a hearty and comforting soup.
2. Creamy Vegan Lima Bean Soup
Make it vegan by using vegetable broth and replacing dairy with coconut milk for a rich and creamy texture. Add a touch of smoked paprika for depth of flavor.
3. Smoky Bacon Lima Bean Soup
Enhance the classic recipe by crisping up some bacon and adding it for a smoky, savory twist. Top with grated cheddar cheese for extra indulgence.
4. Spicy Southwest Lima Bean Soup
Spice up your soup by adding diced green chilies, cumin, and chili powder. Finish with fresh cilantro and a squeeze of lime for a Southwestern flair.
5. Tomato and Lima Bean Soup
Introduce a tomato base by adding canned diced tomatoes and tomato paste. This gives the soup a tangy and slightly sweet dimension.
6. Italian Lima Bean Soup
Bring Mediterranean flavors into your bowl by adding Italian seasoning, diced tomatoes, and a handful of fresh basil leaves. Top with grated Parmesan cheese.
7. Lemon Herb Lima Bean Soup
Brighten the soup with the zest and juice of a lemon. Add fresh thyme and parsley for a refreshing and aromatic twist.
8. Curry Lima Bean Soup
Create an exotic fusion by incorporating curry powder, coconut milk, and a squeeze of lime. Garnish with chopped cilantro and toasted coconut.
9. Ham and Lima Bean Soup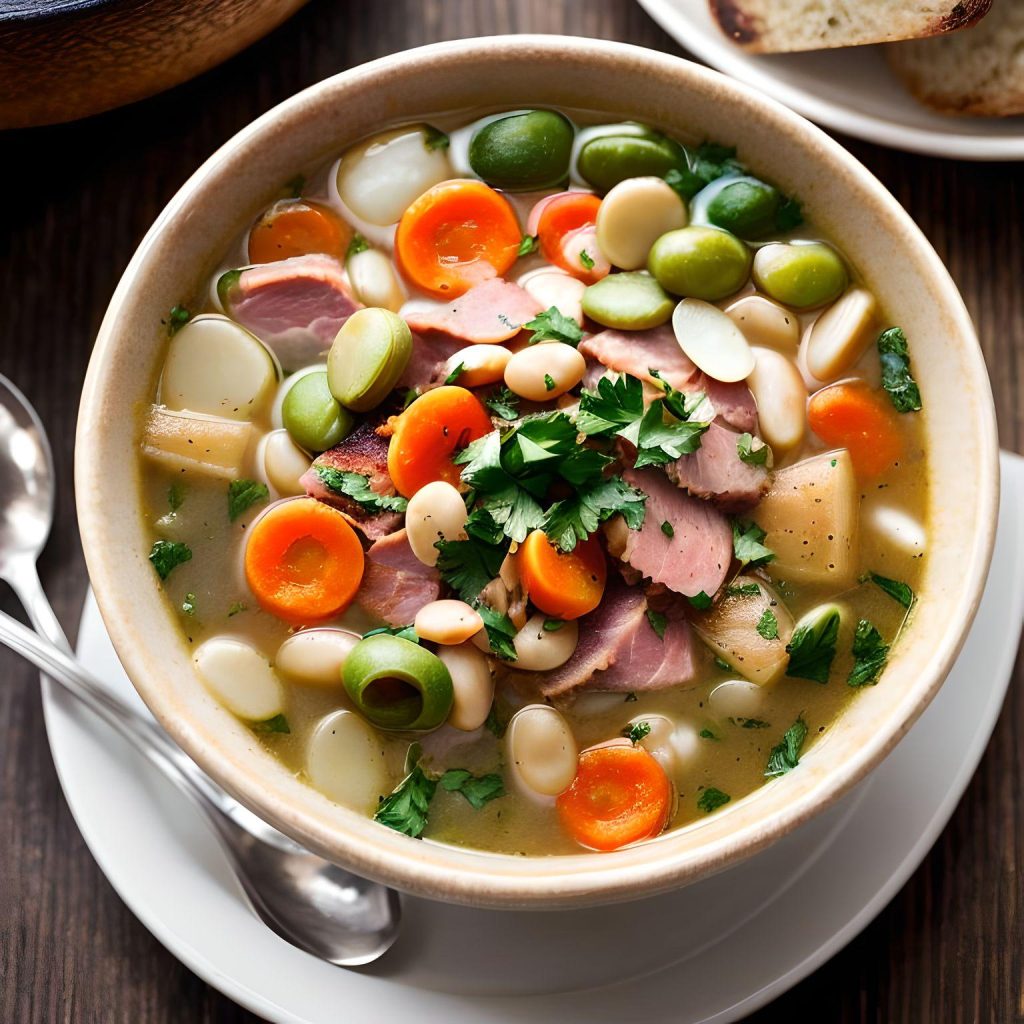 Elevate your soup with chunks of ham. The smoky and salty ham complements the creamy lima beans perfectly.
10. Mexican Lima Bean Soup
Give your soup a Mexican touch with the addition of diced green chilies, corn kernels, and a dash of cayenne pepper. Top with avocado slices and a dollop of sour cream for richness.
These versatile Lima Bean Soup variations allow you to explore different flavors and ingredients while enjoying the comfort of a warm and nutritious bowl of soup.