Mango. Pineapple. Coconut.
Can it get any more deliciously tropical?
Okay, maybe a margarita or and a mojito wouldn't hurt.
But this post is all about the crisp.
Why is it that apples and berries typically get all of the love when it comes to crisps, when there are so many other equally worthy fruits?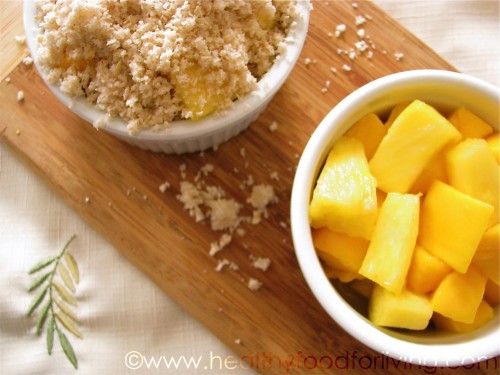 In keeping with the tropical theme, (which turned out to be an appropriate antidote for the dark, cool, and gloomy week we just had in New England), I used ripe mango and juicy pineapple for the fruit filling.
Just a touch of agave nectar helped to bring out the natural sweetness of the fruit, and a bit of arrowroot powder ensured a thick, saucy filling.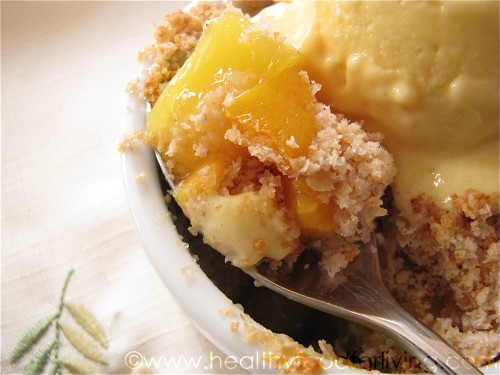 I continued my deviation from the traditional route, and opted to combine rolled oats, whole wheat pastry flour, shredded coconut, and coconut butter for an unexpected – but delectable – crisp topping; the coconut flavor is the perfect accompaniment to the luscious mango and bright pineapple.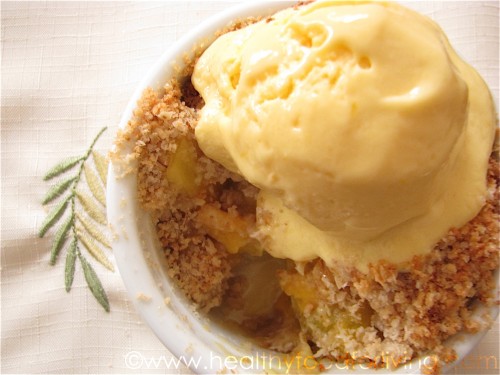 Might I suggest topping the still-warm crisp with a scoop or two of Mango Frozen Yogurt?
| | |
| --- | --- |
| Name | Mango & Pineapple Tropical Fruit Crisp |
| Cuisine | American |
| Prep Time | 20 minutes |
| Cooking Time | 40 minutes |
| Total Time | 60 minutes |
| Servings | 8 |
| Yield | 9×13-inch baking dish |
Ingredients
2 cups chopped fresh ripe pineapple
2 cups chopped fresh ripe mango
2 Tbsp agave nectar
1 Tbsp arrowroot powder
1/4 cup evaporated cane juice
1/4 cup whole wheat pastry flour
1/4 cup old-fashioned rolled oats
1/4 cup reduced fat unsweetened shredded coconut
1/4 cup coconut butter, melted
Directions
Preheat oven to 350°F.
Lightly grease an 8×8 inch baking pan or 4 individual ramekins.
In a medium bowl, toss fruit with agave nectar and arrowroot powder. Spoon mixture into prepared pan or ramekins.
In the bowl of a food processor, combine the evaporated cane juice, flour, rolled oats, and coconut. Pulse a few times until mixed. Add melted coconut butter into dry ingredients and pulse until crumbly. Sprinkle crisp mixture evenly over fruit-filled ramekins.
Bake for 20-30 minutes, or until fruit filling is bubbly and crisp topping is golden.
Nutrition Facts (Per Serving)
Calories: 314
Total Fat: 12g

Saturated Fat: 7g
Trans Fat: 0g

Cholesterol: 31mg
Sodium: 73mg
Total Carbohydrates: 51g

Dietary Fiber: 3g
Sugars: 31g

Protein: 3g
Please note that the nutrition facts are approximate and can vary based on the specific brands and quantities of ingredients used.