Here we are at the tail end of fresh berry season… pretty soon the prices for organic berries will shoot through the roof and the flavor will be watery & lackluster at best. It is for these two reasons that I only buy fresh organic berries during the summer months, but that doesn't mean we can't enjoy a delicious berry crisp during any season of the year!
How exactly do we do that, you ask?
By using organic frozen berries, of course. I picked up this tip from Erin of Texanerin Baking. I made her 100% Whole Grain Raspberry Crumble a few weeks back (using 1/2 frozen organic raspberries and 1/2 frozen organic blackberries) and absolutely loved it. Frozen berries are picked and packed at the peak of freshness and are inexpensive… year-round. Berries in a crisp are cooked down into mushy goodness anyway, so don't worry about the thawed berries being too soft.
For this crisp, I used an organic frozen mixed berry medley from Trader Joe's which includes strawberries, blueberries, raspberries, and blackberries. Lots of flavor, texture, and gorgeous color going on here!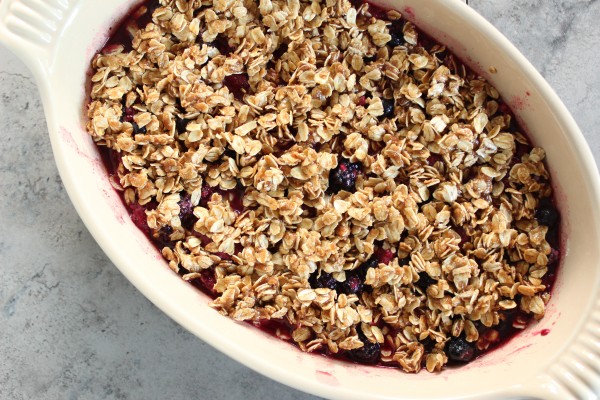 The crisp topping comes straight from Erin's recipe, and involves a mere 2 Tbsp each of oil, brown sugar, maple syrup… pretty healthy in comparison to the vast majority of fruit crisp recipes out there!
Warm fruit crisp topped with a scoop of vanilla bean ice cream is hands-down one of my favorite desserts. Gooey & crunchy, sweet & slightly tart, warm & cold… it's a beautiful dichotomy of texture, flavor, and temperature that just works.
Leftovers (if there are any, which is doubtful unless you're the only dessert-eater in the house as I am) are fantastic mixed with plain Greek yogurt for breakfast the next morning. Sure, it's a sweet way to start the day, but the added sugar (not including the natural sugars found in the fruit) is probably on par with – or even less than – that found in many breakfast cereals.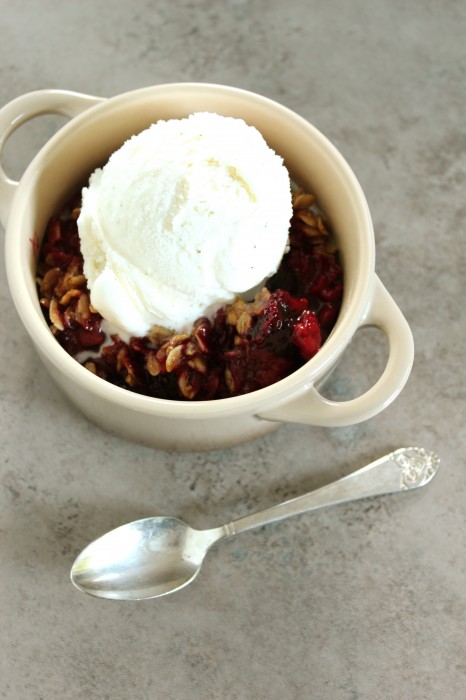 Berries are no longer just for summer enjoyment!
| | |
| --- | --- |
| Name | Any Season Berry Crisp |
| Cuisine | Fusion |
| Prep Time | 15 minutes |
| Cooking Time | 40 minutes |
| Total Time | 55 minutes |
| Servings | 6 |
| Yield | 9×9-inch baking dish |
Keywords: bake dessert vegetarian vegan blackberries blueberries strawberries oatmeal crisp fall spring summer winter
Ingredients (4 servings)
Ingredients for the Fruit Filling
24 oz organic berries, thawed but not drained (I used a medley from Trader Joe's with organic strawberries, raspberries, blackberries, and blueberries)
2 Tbsp whole wheat pastry flour
1 Tbsp unrefined granulated sugar, such as evaporated cane juice
Ingredients for the Crisp Topping:
1 cup old-fashioned rolled oats
2 Tbsp whole wheat pastry flour
2 Tbsp packed brown sugar
1 tsp ground cinnamon
1/8 tsp salt
2 Tbsp neutral-flavored vegetable oil
2 Tbsp pure maple syrup
2 tsp pure vanilla extract
Instructions
Preheat oven to 350°F. Lightly oil a 9 (or 8) inch baking dish.
For the fruit filling: Pour the thawed berries + any accumulated juices into the prepared baking dish. Add in the flour and sugar and stir until well-combined.
For the crisp topping: In a medium mixing bowl, combine the rolled oats, flour, brown sugar, cinnamon, and salt. Stir with a fork until combined. Pour in the vegetable oil, maple syrup, and vanilla extract. Stir until well-incorporated.
Sprinkle crisp topping evenly over the fruit filling. Bake for 20-25 minutes, or until the fruit filling is hot & bubbly and the crisp topping is golden brown.
Nutrition Facts (Per Serving – Approximately)
Calories: 365
Total Fat: 16g

Saturated Fat: 10g
Trans Fat: 0g

Cholesterol: 41mg
Sodium: 102mg
Total Carbohydrates: 56g

Dietary Fiber: 5g
Sugars: 35g

Protein: 3g
Please note that these nutrition facts are approximate and can vary depending on the specific ingredients and brands used. Additionally, these values do not include any optional toppings like ice cream or whipped cream.