Rich.
Fudgy.
Dense.
Sweet.
Chocolaty.
Decadent.
Valentine's Day-worthy.
Healthy?
In this case: absolutely!
You can have it all with this healthified flourless chocolate cake.
A very close friend of my mother-in-law (for all intents and purposes, John's "aunt") made a ridiculously delectable flourless chocolate cake when our families convened for Christmas, and I was picking at the leftovers for days afterward.
I became rather obsessed with making a healthy version, finally got around to experimenting in the kitchen, and thought that Valentine's Day would be the ideal occasion to share with you the recipe I came up with.
I used a recipe from Whole Foods as my inspiration. Now just because a recipe hails from this health food mecca does not mean that it will necessary be light. Check out the link above for the nutritional information of the original cake, and you'll see precisely what I mean.
Instead of a full cup (2 sticks!) of butter, I used avocado and banana puree; in place of 1 1/4 cups of sugar, I used 1/2 cup + some liquid Stevia extract.
[I have been occasionally using Stevia for a couple of years now, and for some reason have put off incorporating it into recipes for the blog. Are you interested in seeing more recipes using this all-natural zero-calorie sweetener?].
The rich avocado puree ensures that the cake comes out dense and fudgy; the banana puree adds moisture and natural sweetness without fat.
These healthy substitutions allowed me to cut out more than half of the sugar, half of the calories, 2/3 of the total fat AND 2/3 of the saturated fat from the original recipe.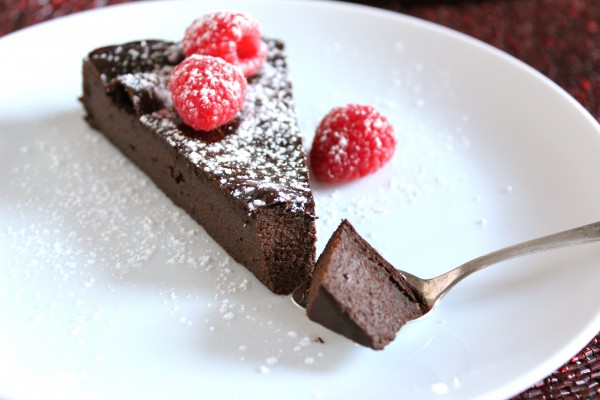 A bite of this indulgent cake is akin to sinking your teeth into a chocolate truffle. Or a spoonful of chocolate ganache. Yet, unlike its traditional counterpart, a generous slice of this cake won't make you curl up in the fetal position with a stomachache. Rich enough to satisfy even the most intense chocolate cravings, but light enough to leave you feeling fantastic after eating it, this flourless chocolate cake is my new favorite dessert!
Flourless Chocolate Cake
by Lauren Zembron (adapted from Whole Foods)
Prep Time: 10 minutes
Cook Time: 30 minutes
Keywords: bake dessert avocado banana chocolate eggs cake
Ingredients (12 servings)
8 ounces good-quality 60% cacao bittersweet chocolate, roughly chopped (I used Ghiradelli)
1/2 cup well pureed ripe avocado flesh (from about 1 avocado)
3/4 cup very ripe banana puree (from about 2 bananas) SEE NOTE
1/2 cup unrefined cane sugar
1 tsp pure vanilla extract
1 cup unsweetened cocoa powder
1 Tbsp espresso powder
1/2 tsp vanilla liquid Stevia extract (or to taste)
6 eggs, preferably organic
powdered sugar, optional
NOTE: There will be a very slight banana flavor to the freshly baked cake, which will disappear after 24 hours of chilling in the fridge. If you're in a rush and simply must serve the cake the same day you make it, try subbing in an additional 1/2 cup of pureed avocado flesh (thereby using 2 whole avocados) for the banana puree. You will probably want to add additional sugar and/or Stevia if you make this substitution to make up for the sweetness of the banana. The additional avocado & sugar will obviously change the nutritional information.
Instructions
Preheat oven to 375°F. Lightly butter or oil a 9-inch spring-form pan. Cut out a circle of parchment paper to fit the pan and place it in the bottom. Lightly oil or butter the parchment paper circle.
Place a small saucepan with one inch of water over medium-high heat. Once the water has come to a boil, Top the saucepan with a heatproof bowl and add in the chopped chocolate; stir until fully melted.
In the bowl of a food processor fitted with the steel blade, combine the pureed avocado flesh, pureed banana, melted chocolate, sugar, and vanilla. Puree until completely smooth, scraping down sides of the food processor bowl as needed. Add in the cocoa and espresso powder; puree until incorporated. Add in the stevia extract. Taste and add more stevia extract if desired. Add in one egg at a time and puree after each addition until perfectly smooth.
Pour batter into prepared pan and bake for about 30-35 minutes, or until the cake has risen and is just firm in the center. Let cool completely, then cover tightly with plastic wrap and chill in the refrigerator for 24 hours (cake will deflate as it cools). Remove the sides of the spring-form pan before slicing and serving.
Nutritional Information Per Serving:
211.1 calories, 12.6 grams fat, 6 grams saturated fat, 4.6 grams fiber, 17.5 grams sugars, 6.1 grams protein