I've always been a muffin-lover.
Banana, apple, corn, bran, carrot… you name it, I love it.
Yet out of the vast array of muffin options, blueberry will always be my favorite.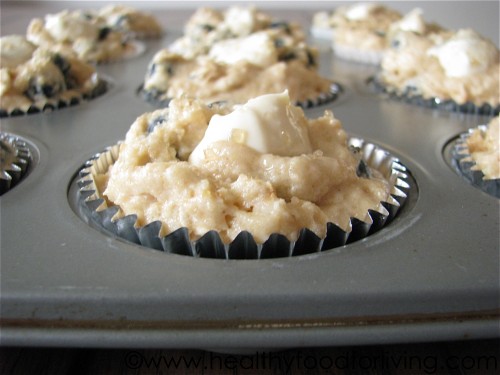 My adoration of blueberry muffins began during a family summer vacation in Maine when I was a kid. I have a clear memory of freshly baked muffins studded with tiny sweet Maine blueberries, made by the elderly woman who ran the bread-bed-and-breakfast (<– clearly, my mind is stuck on bread) at which we were staying.
I'm fairly certain the sweet woman sent me home with the recipe for the blueberry muffins that I loved so much, but I don't have a clue where it is now.
What a shame.
Anyway, on to these Blueberry Cream Cheese Muffins.
So.
They obviously won't be winning any beauty contests. They're lumpy (thanks to the addition of oats). They have neither perfectly rounded nor domed tops. They ooze blueberry juice.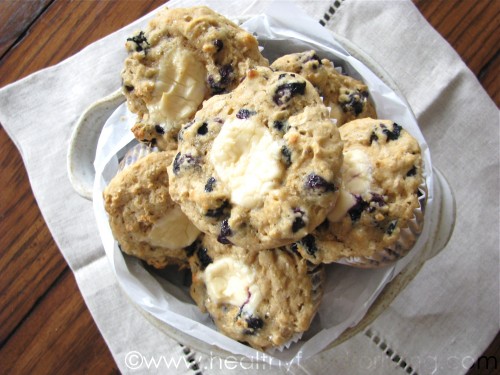 But!
What they lack in appearance they more than make up for in flavor and texture.
Just like my Blueberry Buttermilk Pancakes, these muffins are bursting with fresh blueberries.
We're talking packed full.
It's like that game where you stuff as many marshmallows in your mouth as possible while attempting to say "chubby bunny".
C'mon… you know you've played.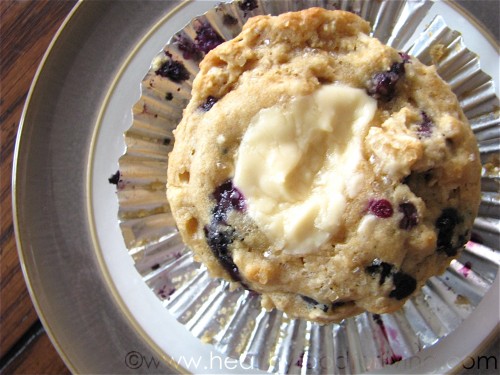 The muffins are lightly sweetened with evaporated cane juice, and finished off with a sprinkling of coarse Turbinado sugar for a bit of crunch.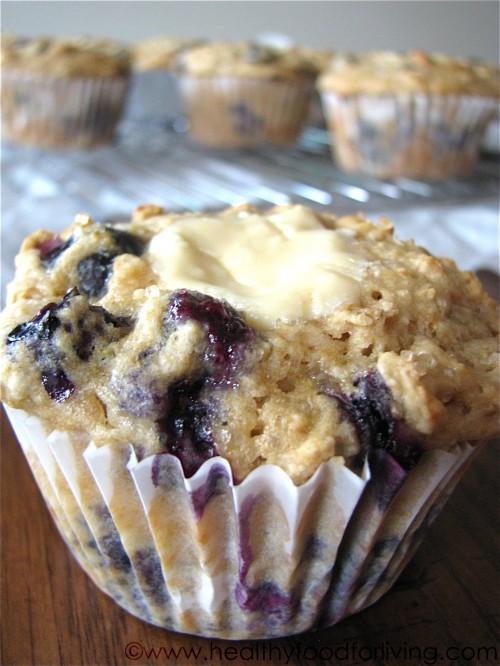 A dollop of maple syrup-spiked neufchatel cream cheese tops each muffin, and adds a built-in creamy richness.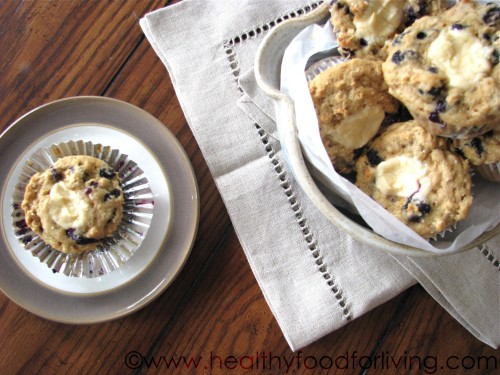 Whole wheat pastry flour and old fashioned rolled oats constitute the dry base of these light & tender muffins, both of which contribute a healthy dose of filling fiber. The muffins are moist – thanks to rich buttermilk and juicy berries – with a delicate crumb.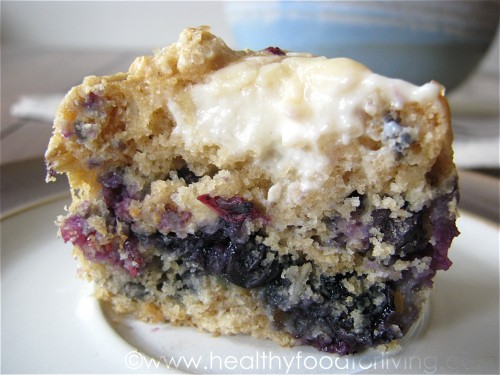 Although they may not be the same blueberry muffins I so fondly remember, they certainly are delicious… and most likely much more healthy!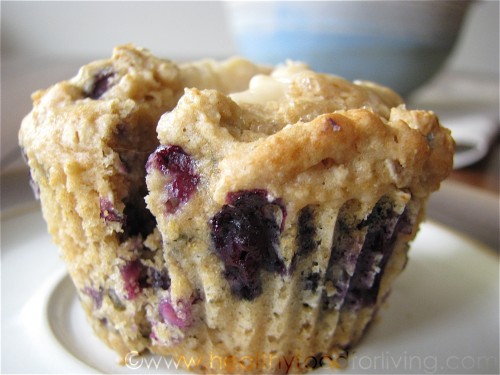 Blueberry Cream Cheese Muffins
Printer-Friendly Recipe
adapted from Shape magazine's Better Blueberry Muffins
NOTE: These are muffins… not cupcakes! I honestly view most bakery muffins as cupcakes sans frosting. These are plenty sweet for my taste preference, but if you prefer a sweeter muffin, you might want to increase the evaporated cane juice to 1/2 cup.
yield: 12 muffins
Ingredients:
1 1/2 cups whole wheat pastry flour
1/3 cup evaporated cane juice, or other unrefined granulated sugar (or 1/2 cup for sweeter muffins, see NOTE above)
1/2 cup old-fashioned rolled oats
2 tsp baking powder
1/2 tsp baking soda
1/2 tsp salt
3/4 cup + 2 Tbsp low-fat buttermilk, well shaken
1 large egg, preferably organic
2 Tbsp canola oil
1 tsp pure vanilla extract
1 pint fresh blueberries, preferably organic, washed and dried
1/4 cup neufchatel (1/3-less-fat cream cheese), at room temperature
1 Tbsp pure maple syrup
1 Tbsp turbinado sugar
Directions:
Preheat oven to 375°F. Grease a 12 cup muffin tin, or line with muffin cups.
In a large bowl, whisk together the flour, evaporated cane juice, rolled oats, baking powder, baking soda, and salt.
In a medium bowl, whisk together the buttermilk, egg, oil, and vanilla extract.
Toss the blueberries with the flour mixture. Add the wet ingredients into the dry and stir just until incorporated.
In a small bowl, stir together the neufchatel and maple syrup.
Divide the batter evenly amongst the prepared muffin cups. Make a small well in the center of each batter-filled muffin cup. Fill each well with 1 tsp of the sweetened neufchatel. Sprinkle each filled cup with a bit of the turbinado sugar.
Bake until a toothpick inserted into the center of a muffin comes out clean (cream cheese sticking to the toothpick is fine, but no raw batter), about 15 minutes. Cool in pan for 5 minutes; transfer muffins to a wire rack to cool completely.
Nutritional Information Per Serving (1 muffin):
160 calories, 4.5 grams total fat, 1.2 grams saturated fat, 29 grams carbohydrates, 3.6 grams fiber, 11.5 grams sugars, 3.7 grams protein