Every parent has to make their own decision on when to first introduce sugar to their baby. We've decided to wait as long as possible, and opt instead to give Lily plenty of fresh fruit with a bit of dried fruit tossed into the mix every now and then.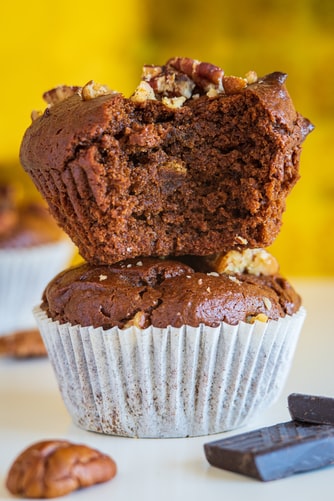 Sugar-free baking might seem like an oxymoron, but fruit does a wonderful job of naturally sweetening baked goods. These muffins, for instance, are sweetened with dates: my absolute favorite dried fruit. Medjool dates are plump and soft, which renders them perfect for puréeing into the muffin batter.
Buttermilk keeps the muffins moist, a hint of cinnamon adds a slight warm sweetness, and finely grated carrots add nutrients.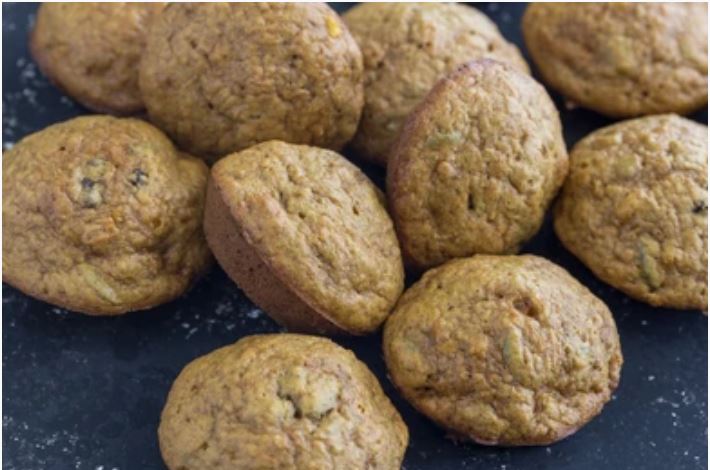 I thought it would be cute to "frost" the muffins with Lily's favorite whole milk yogurt, but you can certainly serve these petite bites to your little one sans yogurt.
I was just able to snap the above photo before Lily dove in…
She ate the yogurt first, and then went to town on the muffin.
Healthy, yummy, portable (without the yogurt frosting), and easy to pick up with small hands, these mini carrot muffins have already become a staple in our house!
| Name | Mini Carrot Muffins |
| --- | --- |
| Cuisine | Fusion |
| Prep Time | 15 minutes |
| Cooking Time | 20 minutes |
| Total Time | 35 minutes |
| Servings | 12 muffins |
| Yield | 1 dozen |
Ingredients
4 large soft Medjool dates, pitted
1 large egg, preferably organic
1 cup buttermilk
1 Tbsp vegetable oil
1 cup whole wheat pastry flour
1 tsp baking powder
1/2 tsp baking soda
1/2 tsp ground cinnamon
1/4 tsp salt
1 cup finely grated carrot (I like to use a microplane grater)
whole milk yogurt for frosting, optional
Estimated Nutrition Per Serving (1 mini muffin)
Calories: 120
Total Fat: 5g
Saturated Fat: 1g
Cholesterol: 20mg
Sodium: 160mg
Total Carbohydrates: 16g
Dietary Fiber: 1g
Sugars: 6g
Protein: 3g
Vitamin A: 30%
Vitamin C: 2%
Calcium: 4%
Iron: 4%
Instructions
Preheat oven to 350°F. Lightly grease 2 (12 cup) mini muffin tins.
In a food processor or blender, combine the dates, egg, buttermilk, and oil. Puree until well-blended (some tiny bits of date are okay). Set aside.
In a large mixing bowl, whisk together the flour, baking powder, baking soda, cinnamon, and salt.
Pour the wet ingredients into the dry, stirring until almost all of the dry ingredients are moistened. Fold in the grated carrots.
Using a tablespoon or mini ice cream scoop, spoon the batter evenly amongst the 24 prepared muffin cups.
Bake in preheated oven for 12-14 minutes, or until the top of a muffin springs back when lightly pressed.
Allow muffins to cool in pan for 10 minutes. Run a butter knife around each muffin to remove and let cool on a wire rack.
Spread a little bit of yogurt on a muffin right before serving, if desired.