If you're a fan of comforting Italian-American dishes but prefer to skip the meat, you're in for a treat.
Baked ziti, a classic pasta casserole, can be just as delicious and satisfying without any meat.
We'll show you how to create the ultimate vegetarian baked ziti that's bursting with flavor and cheesy goodness.
| Name: | Vegetarian Baked Ziti Recipe |
| --- | --- |
| Cuisine: | Italian |
| Prep Time: | 15 minutes |
| Cooking Time: | 35 minutes |
| Total Time: | 50 minutes |
| Servings: | 8 servings |
| Yield: | 1 9×13-inch baking dish |
Ingredients
16 ounces (about 450g) of ziti pasta (or any short pasta of your choice)
2 tablespoons of olive oil
1 medium onion, finely chopped
2 cloves of garlic, minced
1 (28-ounce) can of crushed tomatoes
1 (15-ounce) can of tomato sauce
1 teaspoon dried basil
1 teaspoon dried oregano
Salt and pepper to taste
1 (15-ounce) container of ricotta cheese
2 cups shredded mozzarella cheese
1/2 cup grated Parmesan cheese
Fresh basil or parsley for garnish (optional)
Instructions
Cook the Pasta
Preheat your oven to 375°F (190°C).
Cook the ziti pasta according to the package instructions, but aim for it to be slightly undercooked, as it will finish cooking in the oven. Drain and set aside.
Prepare the Sauce
In a large saucepan, heat the olive oil over medium heat.
Add the chopped onion and cook until it becomes translucent, about 3-4 minutes.
Stir in the minced garlic and cook for an additional 30 seconds until fragrant.
Pour in the crushed tomatoes and tomato sauce.
Add the dried basil and oregano.
Season with salt and pepper to taste.
Simmer the sauce for about 10 minutes, allowing the flavors to meld together.
Assemble the Ziti
In a large mixing bowl, combine the cooked ziti pasta, half of the tomato sauce, ricotta cheese, and half of the mozzarella cheese. Mix until everything is well combined.
Layer the Casserole
In a greased 9×13-inch baking dish, spread a thin layer of the remaining tomato sauce.
Add half of the ziti mixture on top of the sauce.
Sprinkle with grated Parmesan cheese.
Layer the remaining ziti mixture on top.
Pour the rest of the tomato sauce over the ziti.
Bake to Perfection
Cover the baking dish with aluminum foil and bake for 30 minutes.
Remove the foil and sprinkle the remaining mozzarella cheese over the top.
Continue baking uncovered for an additional 15-20 minutes, or until the cheese is bubbly and golden.
Serve and Enjoy
Allow the baked ziti to cool for a few minutes before serving.
Garnish with fresh basil or parsley, if desired.
Serve hot and enjoy your delicious meatless baked ziti!
This vegetarian baked ziti is a crowd-pleaser that even meat lovers will adore. With layers of cheesy goodness and a rich tomato sauce, it's a comforting dish that's perfect for family gatherings, potlucks, or a cozy night in. Give it a try, and savor the flavors of Italy without any meat. Bon appétit!
Nutrition Facts (Per Serving)
Calories: Approximately 450 calories
Total Fat: About 14g
Saturated Fat: Approximately 7g
Cholesterol: Around 35mg
Sodium: About 750mg
Total Carbohydrates: Approximately 60g
Dietary Fiber: Approximately 4g
Sugars: About 8g
Protein: Around 20g
10 More Vegetarian Baked Ziti Recipe
Savor the deliciousness of vegetarian baked ziti with this easy 10-ingredient recipe. A symphony of ziti pasta, marinara sauce, and cheese, seasoned to perfection, makes for a meatless delight that's both simple and satisfying. Perfect for a quick and tasty dinner option!
1. Three-Cheese Baked Ziti
Elevate your meatless ziti with a combination of ricotta, mozzarella, and Parmesan cheeses. The result is a gooey, cheesy masterpiece that's sure to please the whole family.
2. Spinach and Mushroom Baked Ziti
Incorporate earthy mushrooms and fresh spinach into your ziti for added flavor and nutrients. Sauté the mushrooms and wilt the spinach before mixing them into the pasta.
3. Vegan Baked Ziti
Create a plant-based version by using dairy-free ricotta and mozzarella alternatives. A cashew-based cream sauce can provide creaminess, making this a delightful vegan option.
4. Roasted Vegetable Baked Ziti
Roast a medley of colorful vegetables like bell peppers, zucchini, and eggplant. Toss them with your ziti before baking for a delicious and nutritious twist.
5. Pesto Baked Ziti
Add a burst of fresh flavor with a homemade basil pesto sauce. Combine it with the ziti and cheese for a vibrant and aromatic dish.
6. Mediterranean Baked Ziti
Incorporate Kalamata olives, feta cheese, and sundried tomatoes into your ziti for a Mediterranean flair. Finish with fresh basil and a drizzle of olive oil.
7. Broccoli and Cheddar Baked Ziti
Steam broccoli florets until tender and mix them with sharp cheddar cheese. Combine this with your ziti for a satisfying and cheesy broccoli twist.
8. Alfredo Baked Ziti
Swap out the tomato sauce for a rich Alfredo sauce made with cream, butter, and Parmesan cheese. It's a creamy, indulgent variation.
9. Tex-Mex Baked Ziti
Spice up your ziti with Tex-Mex flavors. Add black beans, corn, and diced jalapeños to the mix. Top with crushed tortilla chips for a crunchy kick.
10. Mediterranean Chickpea Baked Ziti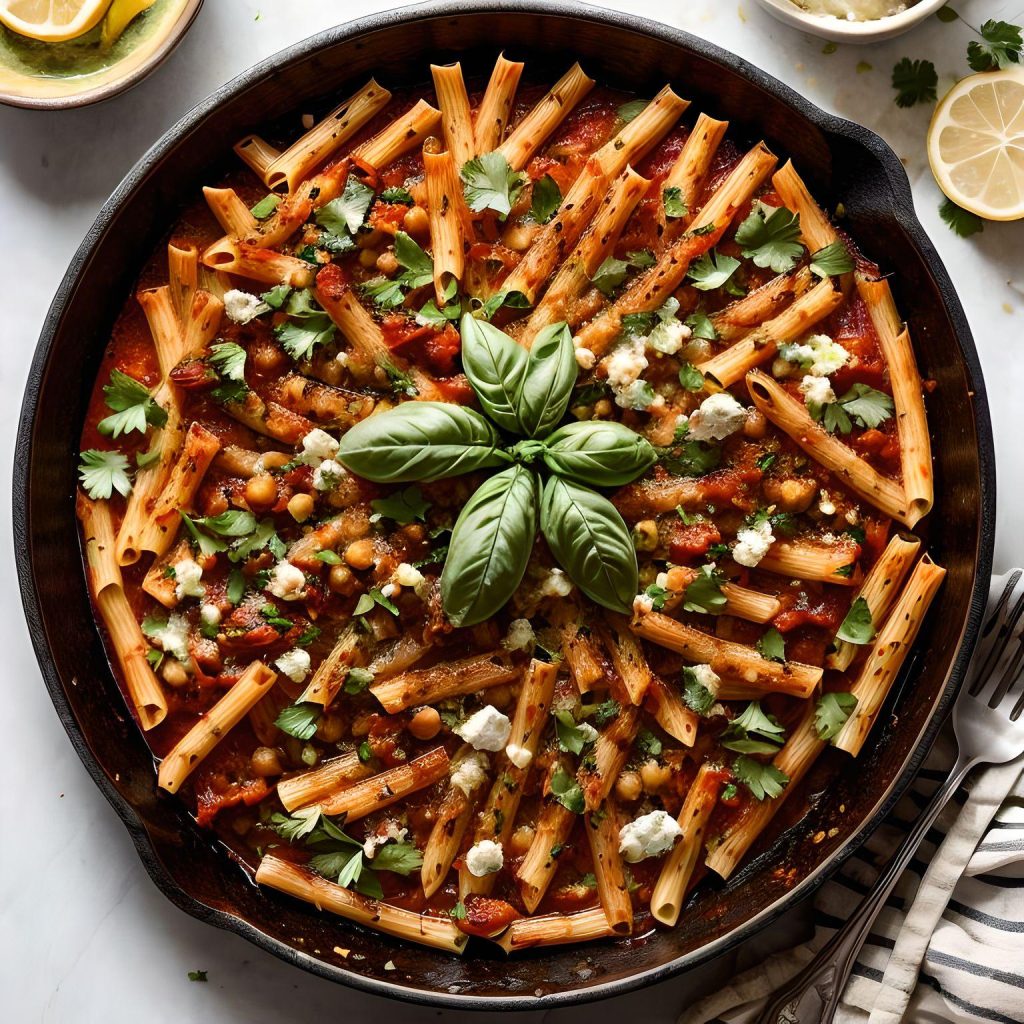 Combine the flavors of the Mediterranean with protein-rich chickpeas. Mix them with ziti, feta cheese, and a lemony tahini dressing for a unique and satisfying meal.
Baked ziti is a classic comfort food, and a vegetarian twist on this Italian favorite can be just as satisfying. With 10 simple ingredients and easy steps, you can whip up a delicious vegetarian baked ziti in no time. Combining ziti pasta, marinara sauce, cheese, and aromatic herbs, this recipe is a crowd-pleaser for veggie lovers and omnivores alike. Enjoy a hearty, cheesy meal without the meat!