A few of you expressed concern when I mentioned that my ice cream maker couldn't quite handle the Peanut Butter Cookie Frozen Yogurt base. No worries – "she's" up and running :). I think I just tried to over-tax her (anyone else assign genders to their kitchen appliances? Anyone?) with that thick Greek yogurt & sandwich cookie mixture! I am happy to report that the old girl gladly accepted this silky smooth white chocolate mocha ice cream base without any complaints.
A mixture of 1% low-fat milk, creamy half-and-half, bold espresso powder, and a bit of sugar are brought to a gentle boil before being poured over sweet white chocolate chips. Although I can't say with any degree of certainty that this ice cream tastes just like Starbucks' popular White Chocolate Mocha beverage, (I've never had one), I bet the flavors are pretty similar. The rich and sweet white chocolate flavor is complemented by the kick of espresso in this delicious lightened ice cream.
I enjoyed my first serving of the ice cream with an extra sprinkling of white chocolate chips and a few chocolate-covered espresso beans, which I highly recommend you seek out if you enjoy the classic chocolate & coffee flavor combination. Later on in the week, I couldn't help but add a scoop of the ice cream on top of a warmed Mocha Brownie… and I can't even describe how utterly amazing that duo was!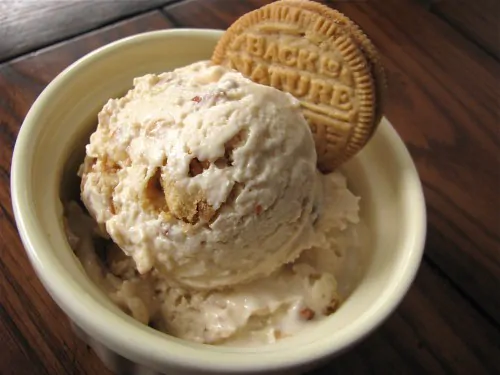 Seeing as this will be my last post before trekking down to CT for Christmas with my in-laws, I will take a moment to wish all of you a Happy Holiday! I will be back before the new year with a couple of healthy savory recipes, which I'm sure many of us will be ready for after all of the cookies and baked goods of the holiday season ;).
White Chocolate Mocha Ice Cream
Ingredients:
1 1/2 cups white chocolate chips or chopped white chocolate, divided
2 cups 1% reduced fat milk, divided
2 Tbsp arrowroot powder or cornstarch
1 cup half-and-half
1 Tbsp instant espresso powder
1/4 cup evaporated cane juice or granulated sugar
2 tsp pure vanilla bean paste (or extract)
Directions:
Place 1 cup of the white chocolate chips in a large bowl, reserving the remaining 1/2 cup. Set aside.
In a small bowl, whisk together 1/4 cup milk with the arrowroot. Set aside.
In a medium saucepan over medium heat, combine the remaining 1 3/4 cup milk, half-and-half, espresso powder, and evaporated cane juice. Cook over medium heat, gently whisking occasionally, until the mixture just begins to boil, about 10 minutes. When the mixture reaches a simmer (bubbles are just starting to break the surface), remove from heat, and whisk in the milk & arrowroot mixture. Whisk until the mixture noticeably thickens, about 30 seconds. Whisk in the vanilla bean paste.
Slowly pour the hot milk mixture over the white chocolate chips. Stir with a rubber spatula until chocolate is completely melted and mixture is smooth.
Transfer ice cream base to a medium bowl. Chill completely in the refrigerator, about 2-3 hours.
Freeze according to ice cream manufacturer's instructions. During the last few minutes of churning, add in the remaining 1/2 cup of white chocolate chips/chunks. Transfer to an air-tight freezable container and freeze until "ripened" (hardened), about 2-4 hours.
Serve with additional white chocolate chips & chocolate-covered espresso beans, if desired.