I was contacted not long ago by Ryan from POM Wonderful, who offered to send me a case of the company's 100% pomegranate juice. Never one to turn down something delicious, (I've tasted – and really liked – POM in the past), I immediately responded in the affirmative. A week later, a box of chilled POM bottles was delivered to my door and I set to work brainstorming what tasty treats I could make featuring the sweet & tart juice.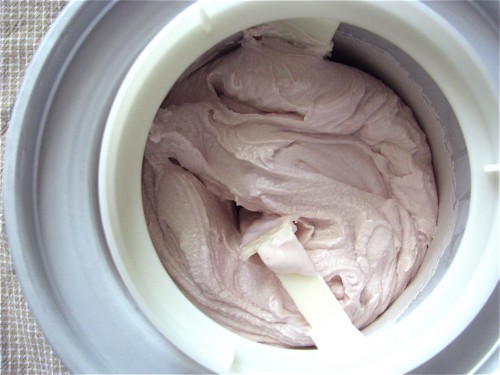 I've been fixated on homemade tart frozen yogurt since churning the batch of basic vanilla, so I figured my first POM experiment might as well be a pomegranate flavored yogurt. Although my friend and fellow blogger Shannon beat me to it, (I love her addition of the chocolate chips!), I decided to go ahead and post my own version.
The pomegranate flavor infused into the yogurt comes from a homemade pomegranate syrup, which couldn't be simpler to make as evidenced below.  I find homemade frozen yogurt to be at its best consistency when served straight from the ice cream maker; but if timing dictates a trip to the freezer first, the yogurt softens up nicely if kept out out on the counter for a little while prior to serving.
Tart Pomegranate Frozen Yogurt
Ingredients:
2 cups plain 0% fat Greek yogurt, (such as Fage)
1 cup plain 2% fat Greek yogurt, (such as Fage)
1/4 cup evaporated cane juice (or granulated sugar)
1/4 cup pomegranate syrup (recipe follows)
Directions:
In a large bowl, combine yogurts, evaporated cane juice, and pomegranate syrup. Stir until the evaporated cane juice is completely dissolved.
Freeze according to ice cream maker manufacturer's instructions.
Serve immediately as soft serve, or spoon into a freezer-safe container and place in freezer until "ripened" (hardened).
Pomegranate Syrup
Ingredients:
2 cups 100% pomegranate juice, such as POM Wonderful
1 Tbsp pure maple syrup
Directions:
Combine pomegranate juice and maple syrup in a small saucepan over medium-low heat.
Cook until the mixture has thickened slightly and has reduced to approximately 1/2 cup, about 1 hour.