Earlier this summer, John and I were invited to spend the weekend at one of our friend's houses on Cape Cod. Of course, we eagerly hopped in the car and set out to Eastham, surprisingly without having to battle the typical summer weekend mass exodus from Boston to the Cape. Although weather reports called for overcast skies and occasional showers, we were fortunate enough to enjoy a mostly sunny and dry couple of days. We rode bikes, spent a day on Mike's boat during which we spotted a bunch of seals lounging on a sand bar…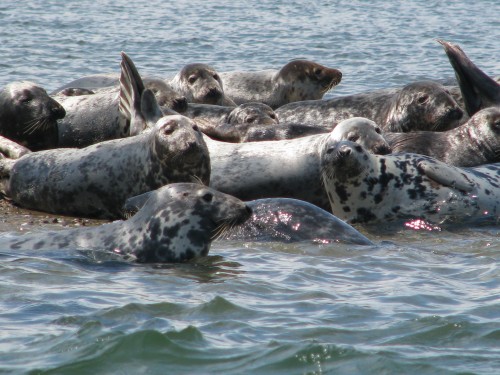 …and of course partook in the favorite beach pastime of mini golf followed by ice cream. Amongst all of the drool-worthy ice cream flavors, the one that stood out to me the most was Purple Cow Frozen Yogurt – a gorgeous purple-hued berry fro yo packed with both dark and white chocolate pieces. Although I was tempted by some of the chocolate brownie cookie concoctions, I couldn't not choose the Purple Cow – after all, it contained some of my very favorite ingredients: yogurt, berries, and both dark and white chocolate.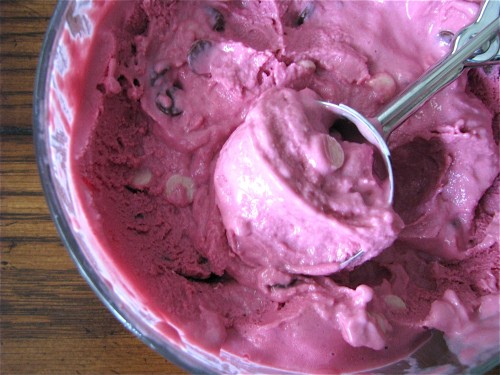 While thoroughly enjoying my newfound favorite fro yo flavor, I made a mental note to research homemade versions of the Purple Cow Frozen Yogurt once we returned home. My search led me to Erin's blog, and her recipe (linked below) sounded like a great one to start with for my adaptation. I used my Tart Vanilla Frozen Yogurt as the base, and added a combination puree of plump blackberries and sweet raspberries. I stuck to my typical brand choice for chocolate, and added Sunspire Grain Sweetened Chocolate Chips and Sunspire White Chocolate Chips to the churning fro yo.
Oh my… this was GOOD! The berries lent not only a gorgeous pinkish-purple color to the frozen yogurt, but also a lovely flavor. Decidedly summery, nicely balanced between sweet and tart, and creamy but light, I could have left the frozen yogurt base as is and enjoyed every last bite. However, the finishing touch of dark and white chocolate chips really made this fro yo sing. If you have the willpower and patience to let each mouthful of frozen yogurt melt around the chips, you are left with a few morsels of chocolaty deliciousness.
This treat is the best of both dessert worlds: fruity and chocolaty. Although I do love chocolate, I typically choose fruit-based desserts during the warmer months. This Purple Cow Frozen Yogurt satisfies my craving for something cold, creamy, and fruity, while simultaneously fulfilling my deep-rooted yearning for rich chocolate. What could be better?!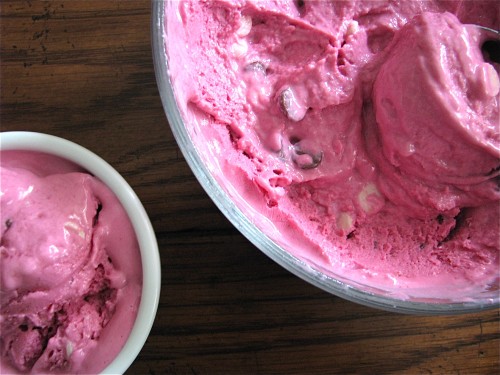 Purple Cow Frozen Yogurt
adapted from Erin Cooks
Ingredients:
2 cups plain 0% fat Greek yogurt, such as Fage
1 cup plain 2% fat Greek yogurt, such as Fage
1/2 cup + 1 Tbsp evaporated cane juice (or granulated sugar), divided
1 tsp pure vanilla extract
12 oz blackberries (about 1 1/2 cups)
4 oz raspberries (about 1/2 cup)
4 oz dark chocolate, chips or chopped, (about 1/2 cup)
4 oz white chocolate, chips or chopped, (about 1/2 cup)
Directions:
In a large bowl, combine yogurts, evaporated cane juice, and vanilla extract. Stir until the evaporated cane juice is completely dissolved. Place in refrigerator and chill for about 1 hour.
Place all of the berries into a food processor or high-speed blender and process/blend until pureed.
Set a fine mesh sieve over a large bowl and pour the berry puree into the sieve. Using a rubber spatula, stir and gently press down on the puree to separate the puree from the seeds. Be patient, as this might take a little while. You want to extract as much of the thick liquid as possible – don't forget to scrape the sides and bottom of the sieve with a clean spoon and add any collected puree to that in the bowl. Unless you really hate seeds, you can reserve whatever is left over in the sieve, add a bit of sweetener, and enjoy as no-cook berry preserves. Stir in the remaining 1 Tbsp of evaporated cane juice into the seedless berry puree & place in the refrigerator to chill for about 1 hour.
Stir together the sweetened yogurt and seedless berry puree until well mixed and freeze mixture according to ice cream maker manufacturer's instructions, slowly adding in both kinds of chocolate in the last few minutes of churning.
Serve immediately as soft serve, or spoon into a freezer-safe container and place in freezer until "ripened" (hardened).