If you can deal with shreds of zucchini in your breakfast…
… you just might like this granola as much as I do.
With chewy clumps of oats, sweet nuggets of chocolate, ribbons of zucchini, crunchy walnuts, and warm tones of cinnamon and nutmeg, this granola has all the flavor of a traditional zucchini quick bread.
You guys know from my Zucchini Bread Pancakes that I like chocolate chips and walnuts in my zucchini bread, so I brought both ingredients into play with this granola.
I typically use unsweetened applesauce in place of butter or oil when making granola, so I easily swapped in some finely grated zucchini – which, I promise, you can't taste at all!
It's key to use a fine grater (such a microplane) for this recipe, because you want the texture of the zucchini to fall between shreds and puree. If you only have a box grater, opt for the side with the small holes rather than the side you would typically use for shredding zucchini or cheese.
Yes, you can see the pieces of green squash in the final product – but after all, if you couldn't it would just be chocolate and walnut granola.
Which would be delicious as well… but why not sneak in some veggies?!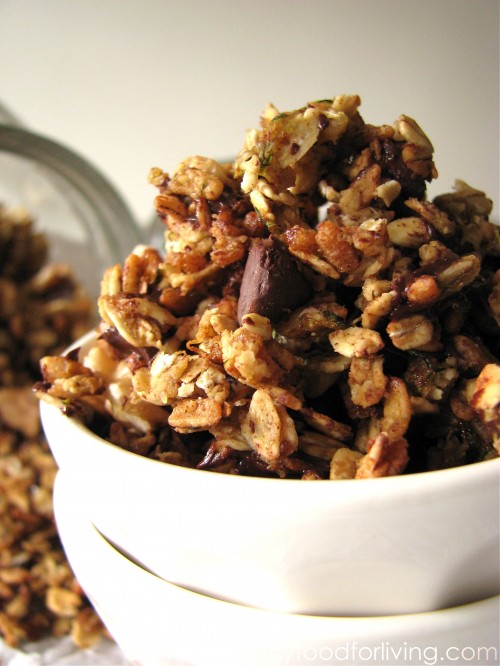 I tossed the chocolate chips (grain-sweetened to keep the sugar content low) in with the still-warm granola so that the heat would partially melt them. The melted chocolate basically acts like glue, forming glorious chewy granola clumps.
If you were brave enough to try my zucchini pancakes, I think you're up for this challenge! I just might succeed in my mission to turn you into a zucchini-for-breakfast fan ;).
Zucchini Bread Granola
Printer-Friendly Recipe
yield: 8 servings
Ingredients:
1 1/2 cups rolled oats
1 1/2 cups crisp brown rice cereal
3/4 cup very finely grated zucchini (I used a microplane grater) *The grated zucchini should be very wet – don't wring it out… you want that moisture!*
1 Tbsp canola oil
2 Tbsp pure maple syrup
2 Tbsp brown sugar
1/2 tsp vanilla extract
1 tsp ground cinnamon
tiny pinch of nutmeg
1/4 tsp salt
1/2 cup chopped walnuts
1/2 cup grain-sweetened chocolate chips, such as Sunspire (these chocolate chips have half the amount of sugar as regular chocolate chips)
Directions:
Preheat oven to 325° F. Line a cookie sheet with parchment paper.
Meaure the oats and crisp rice cereal into a large bowl, set aside.
In a medium bowl, whisk together the grated zucchini, canola oil, maple syrup, brown sugar, vanilla extract, cinnamon, nutmeg, and salt. Whisk until well-combined.
Pour wet ingredients over cereal. Using your hands, break up the clumps of grated zucchini and stir until the cereal is evenly coated. Spread mixture on the prepared cookie sheet in an even layer.
Bake for 15 minutes. Remove sheet from the oven, stir the nuts into the granola, and break up any remaining clumps of zucchini. Bake for an additional 15 minutes, or until the granola is golden brown and crisp.
Remove granola from the oven, cool for 10 minutes, and then toss in the chocolate chips until partially melted. Cool completely. Store in an airtight container.
Nutritional Information Per Generous 1/2 Cup Serving:
207 calories, 9.8 grams fat, 2.2 grams saturated fat, 4.4 grams fiber, 10.3 grams sugar, 4 grams protein