Aaahhh, cheesecake. One of my all-time favorite desserts… but admittedly a fairly an extremely decadent indulgence. Slices of restaurant cheesecake are loaded with fat and sugar, and appear to weigh a hefty 1/2 pound each.
Enter mini cheesecakes, baked in individual muffin cups for instant portion control. This is not a new concept, as the Individual Cookies & Cream Cheesecakes have been circulating the foodie blogosphere for a few years now. I stuck with my lightened version (also used for my Individual Maple Cheesecakes) and subbed in neufchatel (1/3-less-fat cream cheese) for full-fat cream cheese and lowered the overall amount of sweetener.
I further carried over components of those recipes by using a sandwich cookie "crust" for these peanut butter cheesecakes. I rarely buy prepackaged cookies, but when I do I rely on Newman's Own Organics and Back to Nature for tasty treats without hydrogenated oils, high fructose corn syrup, artificial flavors, colors, or preservatives.
Poured on top of these yummy cookies is an incredibly delicious neufchatel-and-peanut butter filling that bakes into a dense, almost fudge-like cheesecake.
Although it's difficult to be patient, the cooked cheesecakes must be completely chilled in the refrigerator…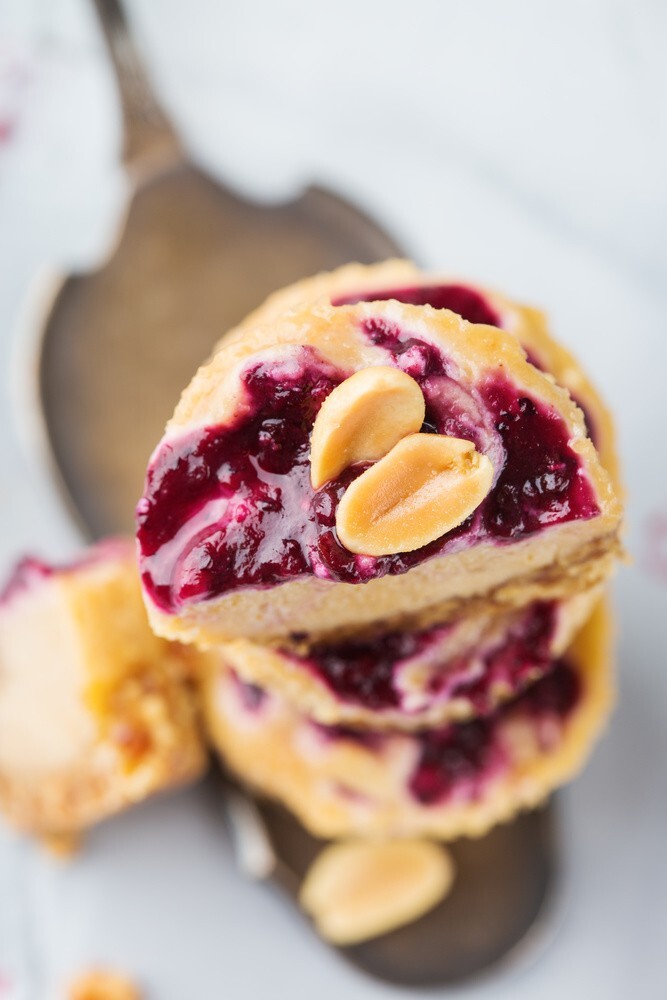 … before being unwrapped and devoured.
The creamy, perfectly sweet, peanut buttery filling is so delicious on it's own, that you could omit the eggs and serve it as a cheesecake dip for fresh fruit or cookies if you'd like. However, I highly suggest following the recipe using the cookie crust because there is nothing like biting into layers of luscious peanut butter cheesecake, slightly crisp peanut butter cookies, and smooth peanut butter cream… all the while knowing that this little piece of nirvana won't undo all of the hard work you've put in at the gym!
| Name: | Individual Peanut Butter Cheesecakes |
| --- | --- |
| Cuisine: | Fusion |
| Prep Time: | 20 minutes |
| Cooking Time: | 25 minutes |
| Total Time: | 3 hours (includes chilling time) |
| Servings: | 12 |
| Yield: | 12 individual cheesecakes |
Ingredients
18 peanut butter cream sandwich cookies (such as Back to Nature)
16 oz neufchatel (1/3-less-fat) cream cheese, at room temperature
1/2 cup creamy peanut butter
1/2 cup evaporated cane juice (edited to add: an equal amount of granulated sugar may be substituted)
1/2 tsp pure vanilla extract
2 large eggs, at room temperature
1/2 cup 2% plain Greek yogurt
pinch of salt
Directions
Preheat oven to 275*F. Line standard muffin tins with paper liners. Place 1 whole cookie in the bottom of each of 18 lined cups.
In the bowl of an electric mixer, beat the neufchatel and peanut butter at medium speed until smooth, scraping down sides of bowl as needed. Add in evaporated cane juice and beat until combined. Beat in vanilla.
Beat in one egg at a time, scraping down the sides of the bowl as needed. Beat in yogurt and salt.
Spoon batter evenly among the 18 lined cups, filling each almost to the top. With the back of a spoon, smooth out the top of each filled cup.
Bake, rotating pans halfway through, until filling is set, 22-24 minutes. Let cool on a wire rack. Chill in the refrigerator for at least 4 hours, or up to overnight, before serving.
Estimated Nutrition Per Serving
Calories: 350 kcal
Total Fat: 26g
Saturated Fat: 11g
Trans Fat: 0g
Cholesterol: 75mg
Sodium: 260mg
Total Carbohydrates: 24g
Dietary Fiber: 2g
Sugars: 16g
Protein: 8g