I may have mentioned this on the blog before, but I like to make treats for each of my students on their birthdays. Some students request a specific type of cookie, brownie, or bar, and others ask to be surprised.
Regardless of what type of goodie I bring in, it is rarely a "healthified" (or "Laurenified") version. Although I wish more of my students were interested in eating healthfully, a well-rounded diet of whole foods doesn't seem to be on many of their radars. Most of the baked goods and desserts I make for myself are probably not the kind of birthday treats the typical high schooler is interested in.
<I have discussed my approach to eating and cooking with a few students, but I don't feel it is my place to push it on them – they are old enough to make their own food choices, which will most likely mature as they do.>
That said, I decided to lighten the recipe for this double batch of Cookies & Cream Cheesecake Bars for my four students with summer birthdays. I knew from the Individual Cookies & Cream Cheesecakes I made a while back that this recipe could easily be made a bit healthier (without sacrificing flavor!) by subbing in 1/3-less-fat neufchatel cheese for full-fat cream cheese and replacing the sour cream with 2% plain Greek yogurt. I also stuck with no-junk-added Newman-O's (linked below) in place of artificially flavored and high fructose corn syrup-sweetened Oreos. I highly doubt these ingredient substitutions can be detected – even by the most discerning teenage palate.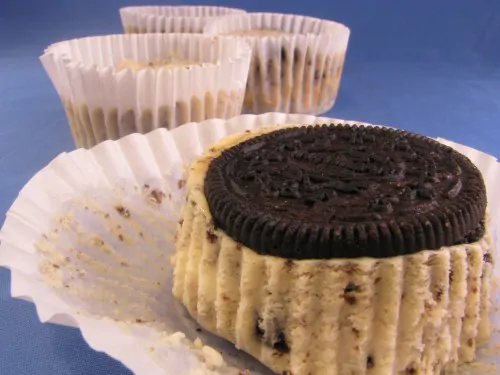 I divvied up most of the bars evenly between the three birthday boys and one birthday girl, and the rest were packaged up for John to bring in to work.
I think I'm going to need to make a smaller batch sometime soon for us to enjoy at home! The creamy cheesecake filling, which is dotted with pieces of sandwich cookie, sits atop a crumbly crust comprised of crushed cookies and heart-healthy canola oil (a fine substitute for melted butter). If cookies & cream is a flavor combination you like, I guarantee that you will love these bars.
Cookies & Cream Cheesecake Bars
| Name | Cookies & Cream Cheesecake Bars |
| --- | --- |
| Cuisine | Fusion |
| Prep Time | 20 minutes |
| Cooking Time | 35 minutes |
| Total Time | 3 hours (including chilling time) |
| Servings | 12 squares |
| Yield | 1 8×8-inch pan |
Ingredients
1 (16 oz) package cream-filled chocolate sandwich cookies, such as Newman-Os
4 Tbsp canola oil
24 oz neufchatel (1/3 less fat) cream cheese, softened to room temperature
3/4 cup evaporated cane juice or granulated sugar
3/4 cup 2% plain Greek yogurt, at room temperature
1 tsp vanilla extract
1/2 tsp salt
3 large eggs, at room temperature
Directions
Preheat oven to 325 degrees F. Line a 9 x 13-inch baking pan with parchment paper, allowing the sides to hang over the edges.
Place 28 sandwich cookies in a food processor and process until finely ground. Transfer cookie crumbs to a large bowl, add in the canola oil, and stir until ingredients are well mixed.
Spoon the mixture into the prepared baking pan and spread the cookie crumbs evenly, using either your fingers or the back of a spoon.
Bake for 10 minutes, then remove to a wire cooling rack.
Place the remaining cookies (about 5 or 6) into the food processor and pulse a few times until the cookies are roughly chopped. Set aside.
In a large bowl, beat the neufchatel and evaporated cane juice with an electric mixer until well combined, scraping down sides of bowl as necessary. Beat in the Greek yogurt, vanilla, and salt. Beat in the eggs, one at a time. Beat the mixture until smooth. Fold in chopped sandwich cookies.
Pour the neufchatel mixture evenly over the baked cookie crust, and bake for 40 minutes, rotating pan once. Remove the pan to a wire rack to cool to room temperature, about 1 hour. Chill in the refrigerator, covered, at least 3 hours, or overnight.
When ready to cut the cheesecake into bars, remove the contents of the pan by lifting up the sides of the parchment paper and transferring to a cutting board.
Serve chilled.
Estimated Nutrition per Serving
Please note that the nutrition information provided here is approximate and may vary depending on the specific ingredients and brands used. These values are based on a standard serving size of one square of Cookies & Cream Cheesecake Bars.
Calories: 320 kcal
Total Fat: 24g

Saturated Fat: 13g
Trans Fat: 0g

Cholesterol: 85mg
Sodium: 280mg
Total Carbohydrates: 23g

Dietary Fiber: 1g
Sugars: 15g

Protein: 4g
These nutrition values are approximate and may vary based on specific ingredients and portion sizes. Be sure to adjust the values accordingly if you have dietary restrictions or are using different brands of ingredients. Enjoy your delicious Cookies & Cream Cheesecake Bars!