Almost everyone likes to have baked goods regularly, and having some banana bread can make someone's day. Its sweet taste and soft and rich texture make it a favorite dessert for many occasions. And since it is effortless to make and needs very few ingredients that you always have in your pantry, it is a comfort-food to many.
If you are one of those who likes banana bread, it is natural to ask — is banana bread healthy? The answer is a bit complex as it's normally healthy, but some ingredients might not suit you.
But when you have finished reading this article, you will have a clear-cut idea about whether banana bread is healthy for you or not.
5 Ways Banana Bread Healthy for You
Many ingredients used in making traditional banana bread are excellent sources of nutrition. Now let's break down how banana bread can be beneficial for you.
Great Source of Protein:
Banana bread contains a high amount of protein since eggs and bananas are used to prepare this. Per 100 grams of eggs contain 13 grams of protein and per 100 grams of banana contains 1.1 to 1.3 grams of protein.
Protein is one of the main macromolecules, and it is needed to build up your body and immune systems. It also works to repair and recover your muscles. Your body cannot make all the amino acids it needs, so you must receive them from dietary intake.
This macromolecule also regulates your blood sugar and keeps you full for a long time, so you do not get hungry frequently.
Boosts Your Energy:
Eating this bread will give you a burst of energy since it contains a high amount of bananas and sugar. Banana and sugar are significant sources of carbohydrates, and carbohydrates are the first and readily available energy source for your body.
Every 100 grams of banana contains 23 grams of carbohydrates, and this carbohydrate is the only compound brain can use for energy. So, if you ever feel like you cannot concentrate on your studies, try having one serving of banana bread.
Provides Dietary Fibers:
Nuts and bananas used to make banana bread supply your body with a significant portion of fibers. There are 7 grams of fibers in every 100 grams of walnuts and 3 grams of fibers in every 100 grams of bananas.
Fibers maintain a healthy gut environment in your stomach and increase your heart functions, leading to decreasing the risk of coronary and cardiovascular diseases. Also, since they take longer to digest, you feel hungry less frequently.
Increases Metabolism:
Banana bread supplies your body with a substantial quantity of vitamins and minerals.
Eggs, bananas, and walnuts are rich in sodium, potassium, magnesium, iron, calcium, cobalamin, vitamin B6, vitamin C, and vitamin D.
Vitamins and minerals are essential for your body's metabolic function.
Optimum metabolism of your body leads to an increment of energy, growth, proper digestion, and respiration for your body.
Increases Immunity:
Banana bread is great for our immune system. Eggs, bananas, and walnuts are excellent sources of nutrients like protein, carbohydrates, vitamins, and minerals.
They work efficiently to protect your body from extracellular pathogens like bacteria, viruses, fungi, and parasites.
Great for Skin and Eyes:
Bananas contain carotenoids which is a type of pigment. Provitamin A class of carotenoids is splendid for your eyes as they increase their power.
Potassium of eggs, bananas, walnuts, and cinnamons used in preparing banana bread will help keep your skin smooth and hydrated for a long time. Cinnamons also contain anti-aging properties, which can help to smooth out your wrinkles.
So, it is clear that banana bread is beneficial to your body in many ways. But is it all and consistently favorable for your health? Let's discuss how and when it can be detrimental to our health.
Healthy Banana Bread Recipe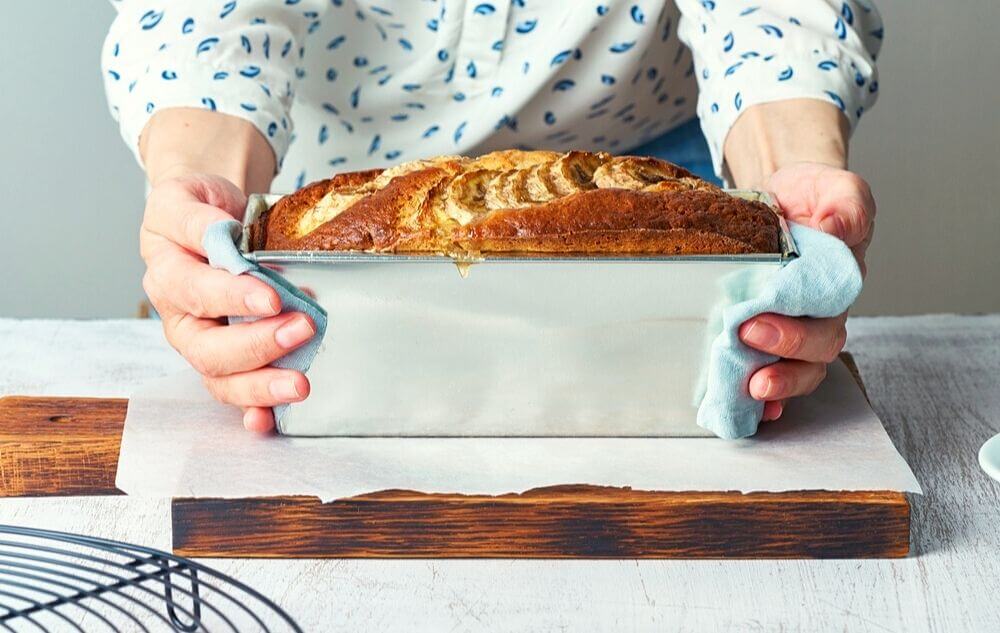 The new and old banana bread recipes are more or less the same. But there are still some ingredients and techniques not seen nowadays to make banana bread.
Mentioned below are the ingredients that are used in the traditional banana bread recipe:
Butter
Eggs
Sugar
Flour
Mashed bananas
Vanilla extract
Baking powder
Baking soda
Salt
Along with these, some extra ingredients are added in the classic banana bread recipe to give it an additional flavor, and a couple of them are:
So, it is evident from this list that banana bread contains both healthy and unhealthy ingredients.
3 Harmful Effects of Banana Bread
Butter, sugar, and processed flour used in banana bread can damage your health and body. But using their healthy substitutes can help you to maintain a healthy body. So, we are here to let you know how they affect your body and what beneficial alternatives you can use.
Butter
Using butter in your banana bread will accelerate the clogging of your arteries. They are full of trans fats and saturated fats. These fats cause cholesterol to increase in your body, ultimately leading to high blood pressure and heart diseases.
As alternatives, you can use canola oil or olive oil since they are suitable for your heart and regulate your blood pressure.
Sugar
Regular consumption of sugar, specifically refined or white sugar, can cause many diseases.
Such as, obesity, inflammation, high blood pressure, fatty liver diseases, and increased risk of suffering from diabetes, stroke, and heart diseases.
Honey, dates, apple sauce, stevia, brown sugar – you can use these to replace the sugar and its unhealthy consequences on your body.
Flour
The use of processed flour in your banana bread will never be good for you. Processed flours lack the essential vitamins and minerals that one can find in whole wheat flour.
Long-time use of processed flour might cause an increment of blood sugar level and blood pressure. As well as fatty liver disease, heart disease, diabetes, and the development of Alzheimer's and cancer.
So, you should use whole wheat flour, oat flour, almond flour, or quinoa flour if you want your banana bread to be fully healthy for you.
Thus, it would be better for you to switch to healthier alternatives to reduce your chances of becoming severely ill.
Make Your Banana Bread Healthier
If you add some extra elements to your banana bread, they will increase its nutrition and flavor. These ingredients are not very hard to find, and some of them are always in your pantry, making it easy for you to make the best version of your banana bread.
Clove
Nutmegs
Citrus
Cocoa
Dried fruits
Maple syrup
Pumpkin
Zucchini
Pineapple
These will increase the flavor of your banana bread and boost its nutritional value, making it a favorite to you and everyone.
FAQs
Can I have banana bread every day?
It is recommended that you don't. Having too much banana bread can cause weight gain and other diseases. Eating a variety of fresh fruits and vegetables each day will give you the most nutritional bang for your buck.
Is banana bread healthy for my body?
Banana bread can be primarily healthy option, as it is high in fiber and protein. It is also a good source of potassium. But can cause damage to your body when overconsumed.
What are the nutrition facts of banana bread?
It is high in proteins, carbohydrates, vitamins, and minerals but contains trans fats. The amount of nutrients of banana bread is:
Protein: 5.3 grams
Fiber: 1.8 grams
Calories: 421
Fat: 15.8 grams
Carbs: 68.4 grams
Sugar: 42.1 grams
Sodium: 298 mg
How does banana bread affect my body?
Mainly, you will get a boost of energy from banana bread due to the high amount of carbohydrates present.
What can I add to my banana bread to make it healthier?
You can try adding nuts, dried or non-dried fruits, and chocolate chips. Replace your all-purpose flour with healthier versions.
Final Words
Is banana bread healthy? And the answer is it is generally healthy for you, leaving a few ingredients.
But now that you know alternatives to the harmful components, you can make one that will have a minimal detrimental effect on your body.
However, since banana bread will always be high in calories and sugar even after using the healthier alternatives, it is better to eat them once in a while and not regularly.