Coleslaw has been a popular side dish for centuries. What started as a refreshing and straightforward cabbage salad soon started coming in many different variations. Some chefs started using mayonnaise, and some even used cheese spread instead of the classic vinaigrette. So, many began to ask – is coleslaw healthy?
Our team has researched the different types of coleslaws to determine whether coleslaw is healthy or not. Thus, if you want to know whether or not to continue eating coleslaw – or the right portion, then keep reading!
A Little Bit About Coleslaw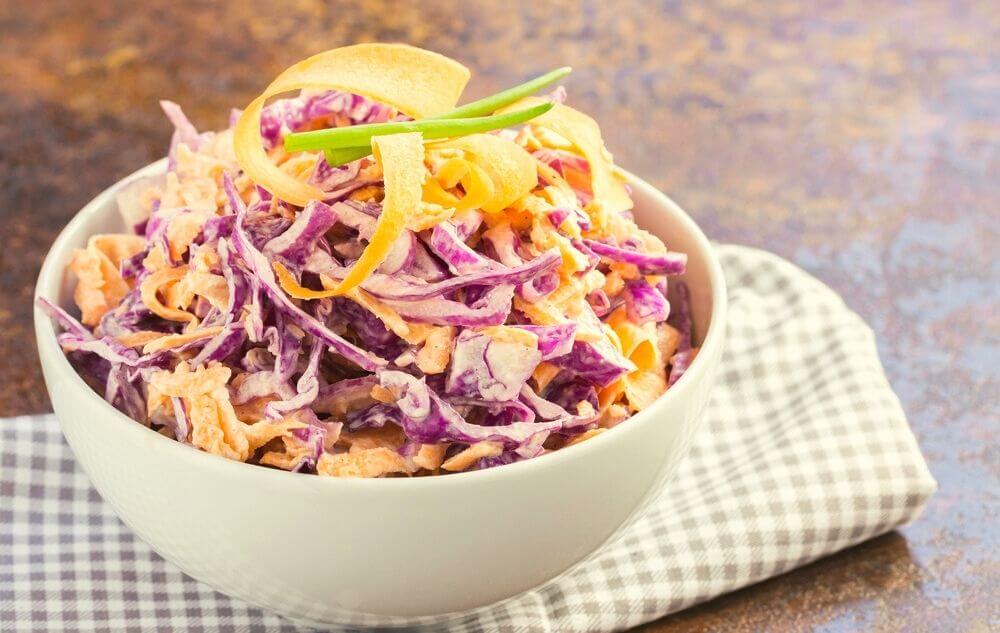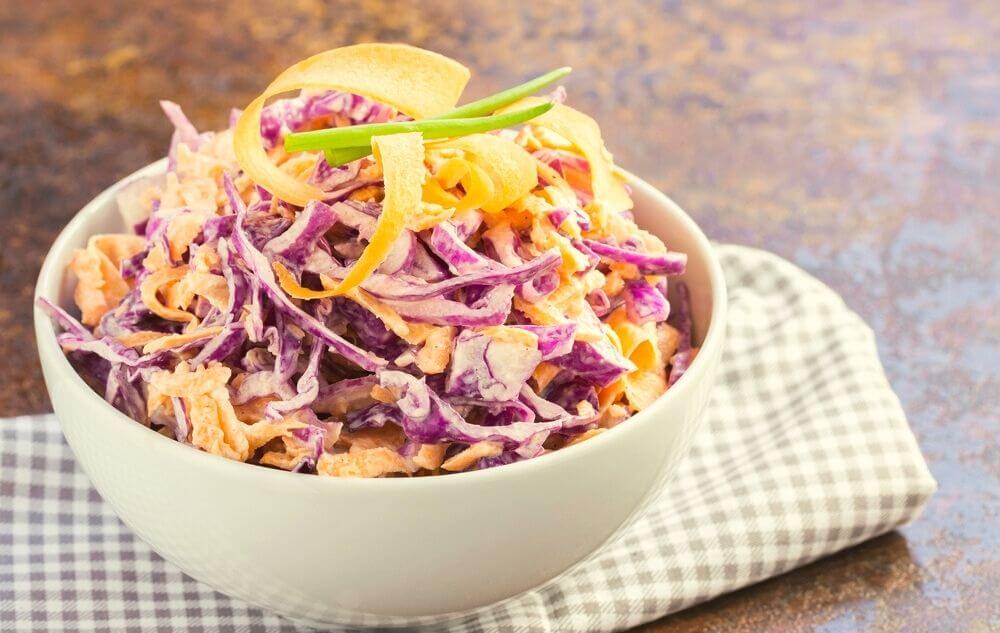 The word coleslaw has been derived from the Dutch phrase "koosla," which translates to 'cabbage salad.' While coleslaw's origins can be tracked back to ancient Roman times, the recipe was formally invented back in 1770 by a Dutch cook.
The recipe comprises shredded cabbage, butter, vinegar, and oil. But now you will find many variations, including other vegetables like carrots, apples, and more. As for the dressing, chefs nowadays use a variation of mayonnaise, mustard, and/or other spices.
You may also like: Is Sushi Healthy?
Nutritional Benefits of Coleslaw
We will give you a breakdown of a regular coleslaw that you can buy from a store to give you a rough idea of its nutrition. Store-bought coleslaws usually are prepared using mayonnaise, cabbage, onions, and carrots.
A normal 100gm serving contains the following:
0.8gm protein
153ug vitamin A
4mg vitamin E
1.2gm fiber
36mg calcium
156mg potassium
21mg phosphorus
173 calories
296mg sodium
16.3gm fat
The spike in the fat content is caused by mayonnaise as a dressing; however, it mainly comprises unsaturated fat. You can easily purchase the healthier version by opting for the ones made with low-fat mayonnaise – as it contains fewer calories.
Suppose you eat a regular serving of 100gm. This is all thanks to cabbage and plant oils in mayonnaise. In that case, it will provide you with the total recommended daily intake of vitamin E while also fulfilling around ¼ of your daily required vitamin A.
Tip: Always check the ingredients to ensure that the item does not include too many calories or salt. The daily recommended salt intake for adults is 6g at most. We've seen that many store-bought coleslaws have been made using almost ¼ of the daily allowance!
How to Incorporate Coleslaw into Your Healthy Diet
What we will suggest you do is make your coleslaw. Coleslaw was created to be a side dish; thus, eating a few tablespoons along with your main course should be fine.
If you make it yourself, you get to choose what ingredients you're putting in and make it as healthy as possible. For instance, you can switch from mayonnaise to Greek yogurt or skip it altogether and create your vinaigrette.
At the same time, you can add more varieties of vegetables such as celery to add more nutrition to the dish. We'll suggest adding fennel and chia seeds to take the dish to another healthy level. 
You may also like: Is Popcorn Healthy?
Healthy Coleslaw Recipes
This section will find some of the healthiest coleslaw recipes, which are all super easy to make.
Broccoli Slaw:
Adding or swapping broccolis for cabbages will give you a booster of iron, fiber, and vitamin K, E & A.
Ingredients:
1 cup shredded broccoli
1 apple shredded
¼ cup roughly chopped walnut
½ cup dried cranberries
½ cup chopped celery
¼ cup Greek yogurt
1 tbsp lemon juice
Salt as required
Put all the dry ingredients together and toss them for a while to get them mixed. Next, mix the yogurt with the lemon juice and pour it. Put a cover over the bowl and shake it vigorously for a minute, and there you have it – ready to be served.
This slaw is packed with nutrition and will keep you full for a long time, thanks to the addition of walnuts. You can have it on its own or pair it with a spicy meal such as BBQ.
Tahini Slaw:
Here's another light coleslaw option that is healthy and packed with health benefits.
Ingredients:
1 small red cabbage shredded
1 cup shredded carrots
1 onion, finely sliced
½ a clove of garlic, crushed and diced
¼ cup of mint leaves, finely chopped
5 tbsp Greek yogurt
1 and a ½ tbsp tahini paste
Salt as required
Coldwater if needed
Put the garlic, yogurt, tahini, and salt in the bowl and start mixing. Once you're happy with the consistency of the dressing, add your veggies. Cover the bowl with a lid and toss it together until you get the dressing to coat the veggies properly. To loosen the thick paste, you may need to add a few tbsp of cold water.
This slaw, while being healthy, is also packed with flavors. You can pair it with grilled meat, burgers, or pulled meat.
Prawn Slaw:
If you are tired of the regular coleslaw and want to take the game to another level, you should surely give this recipe a shot!
Ingredients:
1 cup of shredded cabbage
1 cup of shredded carrot
100gm of sliced radish
½ cup of beansprouts
½ cup of cashew nuts
¼ cup of coriander leaves
100gm cooked or cured prawns
Juice & zest of 1 lime
1 tbsp sesame oil
2 tbsp sugar
1 red chili shopped
2 tsp of ginner shredded
When you want to eat it:
Pile the salad on a plate or bowl and place a handful of the prawn on it.
Put the lime juice and zest, sesame oil, chili, and ginger in a bowl and mix it well.
Next put the rest of the ingredients besides the prawn and toss it until it has adequately combined.
While you can easily eat it on its own as a whole meal – yes, that's how packed with nutrition it is. Also, you can pair it with steak, fried protein, or make tacos with it! This slaw recipe can serve two.
Frequently Asked Questions (FAQs)
Is coleslaw healthy for weight loss?
If you choose the dressing carefully, it can easily be a part of your healthy weight loss diet.
Is coleslaw high in carbs?
Usually, the homemade coleslaw contains about 14 grams of carbs. However, the carb amount mainly depends on the amount of sugar.
Is KFC coleslaw good for your diet?
No, please avoid that as it's not healthy at all.
Final Words
There is a wide variety of coleslaw available in the market and recipes for you to explore. So, is coleslaw healthy? I would say yes, it's good for your health. Should you incorporate it into your diet? We hope we were able to give you the needed information for you to decide for yourself.