Cappelletti, a beloved pasta variety from the Emilia-Romagna region of Italy, brings together the perfect blend of flavors and textures in every bite.
These small, hat-shaped pasta pockets are traditionally filled with a rich, savory mixture, often incorporating ingredients like meat, cheese, and aromatic herbs.
While you can find Cappelletti in stores, there's something special about crafting them from scratch in your own kitchen.
We'll guide you through a classic Cappelletti recipe, perfect for impressing your family and friends.
Cooking Time
Prep Time: 60 minutes
Cook Time: 3 minutes
Total Time: 1 hour and 3 minutes
Servings: Approximately 4 servings
Yield: About 60-70 Cappelletti, depending on the size of your pasta squares and the amount of filling used.
Ingredients
For the Pasta Dough
2 cups all-purpose flour
2 large eggs
A pinch of salt
Water (as needed)
For the Filling
1/2 cup ground pork
1/2 cup ground beef
1/4 cup grated Parmesan cheese
1/4 cup ricotta cheese
1/4 cup finely chopped fresh parsley
1/4 cup finely chopped onion
1 garlic clove, minced
Salt and pepper to taste
Instructions
1. Prepare the Pasta Dough
a. On a clean surface, mound the flour and create a well in the center.
b. Crack the eggs into the well, add a pinch of salt, and gradually incorporate the flour into the eggs using a fork or your fingers.
c. Knead the dough for about 10 minutes until it's smooth and elastic. If it's too dry, add a little water; if it's too sticky, add more flour.
d. Wrap the dough in plastic wrap and let it rest for 30 minutes.
2. Make the Filling
a. In a mixing bowl, combine the ground pork, ground beef, grated Parmesan cheese, ricotta cheese, chopped parsley, chopped onion, minced garlic, salt, and pepper.
b. Mix the ingredients until you have a well-combined, flavorful filling.
3. Roll Out the Pasta
a. After the dough has rested, roll it out into a thin sheet using a rolling pin or a pasta machine.
b. Cut the sheet into small squares, about 2×2 inches in size.
4. Fill the Cappelletti
a. Place a small spoonful of the filling in the center of each pasta square.
b. Fold the square into a triangle, sealing the edges to create the characteristic hat shape.
5. Cook the Cappelletti
a. Bring a large pot of salted water to a boil.
b. Gently drop the Cappelletti into the boiling water and cook for about 2-3 minutes, or until they float to the surface.
6. Serve and Enjoy
a. Once cooked, remove the Cappelletti from the water using a slotted spoon and place them on a plate.
b. Drizzle with olive oil, a sprinkle of Parmesan cheese, and a few fresh parsley leaves.
7. Bon Appétit
You're now ready to savor your homemade Cappelletti. These delightful pasta parcels will transport your taste buds to the heart of Italy with their rich, savory filling and delicate pasta. Serve them with a simple tomato sauce or broth for a truly authentic Italian experience.
Whether you're hosting a special gathering or simply looking for a culinary adventure, making Cappelletti from scratch is a rewarding endeavor. Enjoy the delightful flavors of this classic Italian dish in the comfort of your own home.
Here's the additional information for the Cappelletti recipe along with estimated nutrition facts. Please note that nutrition facts can vary based on the specific ingredients and portion sizes you use.
Nutrition Facts (Per Serving, based on a typical serving size)
Calories: Approximately 270 calories
Total Fat: About 13g
Saturated Fat: 5g
Trans Fat: 0g
Cholesterol: Approximately 80mg
Sodium: Around 350mg
Total Carbohydrates: About 24g
Dietary Fiber: 1g
Sugars: 1g
Protein: Approximately 15g
10 Simple Cappelletti Pasta Recipe
Cappelletti Pasta Recipe: Enjoy a taste of Italy with this delicious dish! Fill small pasta pockets with a savory blend of cheese and herbs, then simmer in a flavorful broth for a comforting and satisfying meal. Buon appetito!
1. Spinach and Ricotta Cappelletti
Fill your Cappelletti with a creamy mixture of wilted spinach and ricotta cheese. Serve with a light garlic and olive oil sauce for a vibrant, vegetarian dish.
2. Butternut Squash Cappelletti
Combine roasted butternut squash, brown butter, and sage for a delightful autumn-inspired Cappelletti. It's a sweet and savory pairing that's perfect for fall.
3. Lobster-Stuffed Cappelletti
Elevate your Cappelletti by filling them with succulent lobster meat mixed with a touch of cream and chives. A decadent seafood delight.
4. Pesto Cappelletti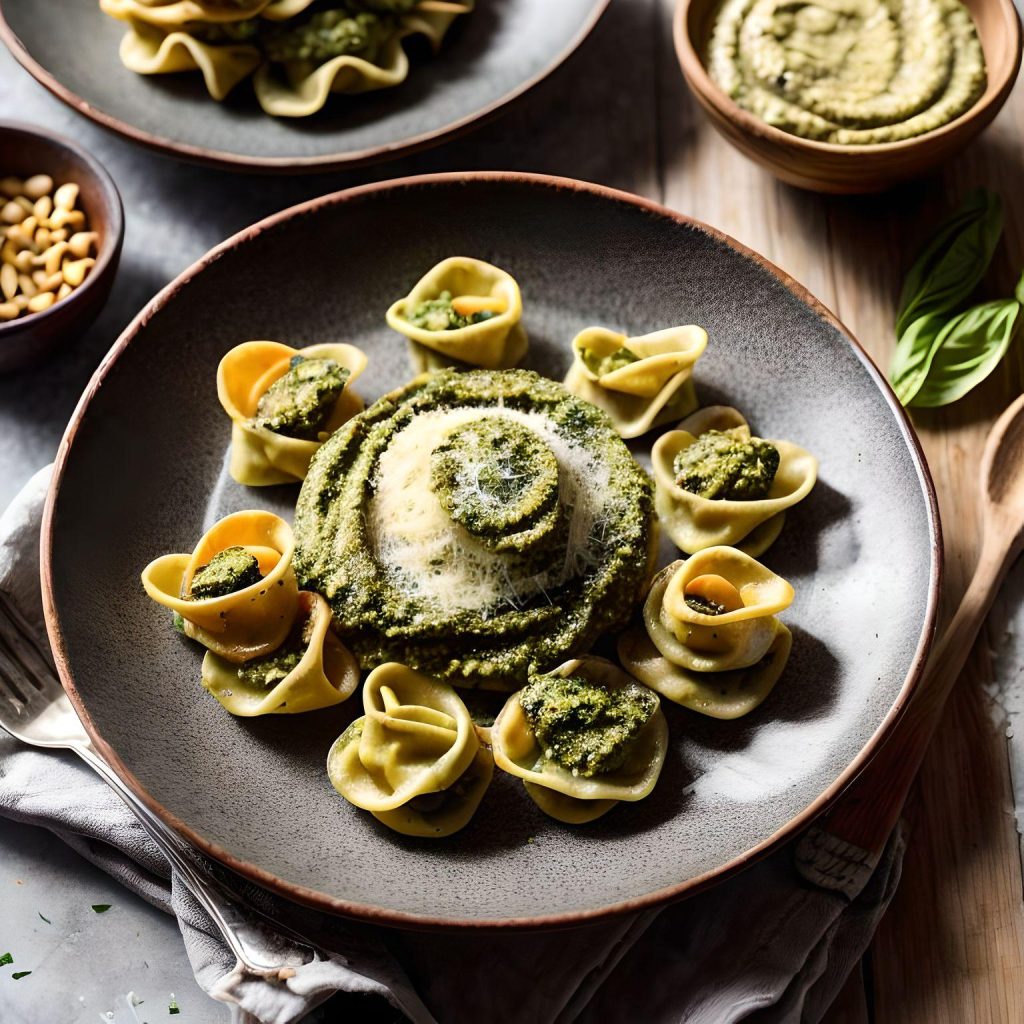 Toss your Cappelletti in a homemade basil pesto sauce with pine nuts and Parmesan. It's a fresh, vibrant dish bursting with flavor.
5. Three Cheese Cappelletti
Create a cheese lover's paradise by mixing ricotta, mozzarella, and Parmesan cheese for your filling. Serve with a simple tomato sauce.
6. Wild Mushroom Cappelletti
Stuff your Cappelletti with sautéed wild mushrooms, garlic, and thyme. A drizzle of truffle oil enhances the earthy flavors.
7. Prosciutto and Pea Cappelletti
Wrap your Cappelletti around a mixture of prosciutto and sweet peas, then toss them in a light cream sauce for a delightful combination of salt and sweetness.
8. Chicken and Broccoli Cappelletti
Fill your Cappelletti with seasoned chicken and steamed broccoli, then coat them in a creamy Alfredo sauce. It's a comforting and satisfying meal.
9. Tomato and Mozzarella Cappelletti
Create a Caprese-inspired dish by using fresh tomatoes, mozzarella, and basil as your filling. Drizzle with balsamic reduction for an Italian classic.
10. Goat Cheese and Roasted Red Pepper Cappelletti
Mix tangy goat cheese with roasted red peppers, and stuff your Cappelletti with this flavorful blend. A light lemon butter sauce complements the dish beautifully.
Looking for a quick and delicious Italian-inspired meal? Try this 10 simple cappelletti pasta recipe. Start by boiling cappelletti pasta until al dente. In a separate pan, sauté garlic and cherry tomatoes in olive oil, then add cooked pasta and fresh basil. Finish with a sprinkle of Parmesan cheese and a dash of black pepper. In just minutes, you'll have a flavorful pasta dish ready to enjoy!